Card games within the traditional gaming industry has managed to build cult followings for themselves with their memorable lore and high skill ceiling. The likes of Hearthstone and Magic: The Gathering were the catalysts of the card genre. The latter of the two was the reason thousands used to gather at physical events to play against each other in real life, heavily invested into the game's world and its characters. Web3 gaming is starting to have clear standouts within the card game genre.
The innovation and creativity within the web3 world sparks the same mentality and approach to game studios. A number of the games nominated for the GAM3 Awards Best Card Game category are trying to reinvent the wheel and add their own spin to the classic genre, and they are definitely exciting. Let's get right into it and see what our five finalists got to offer.
Gods Unchained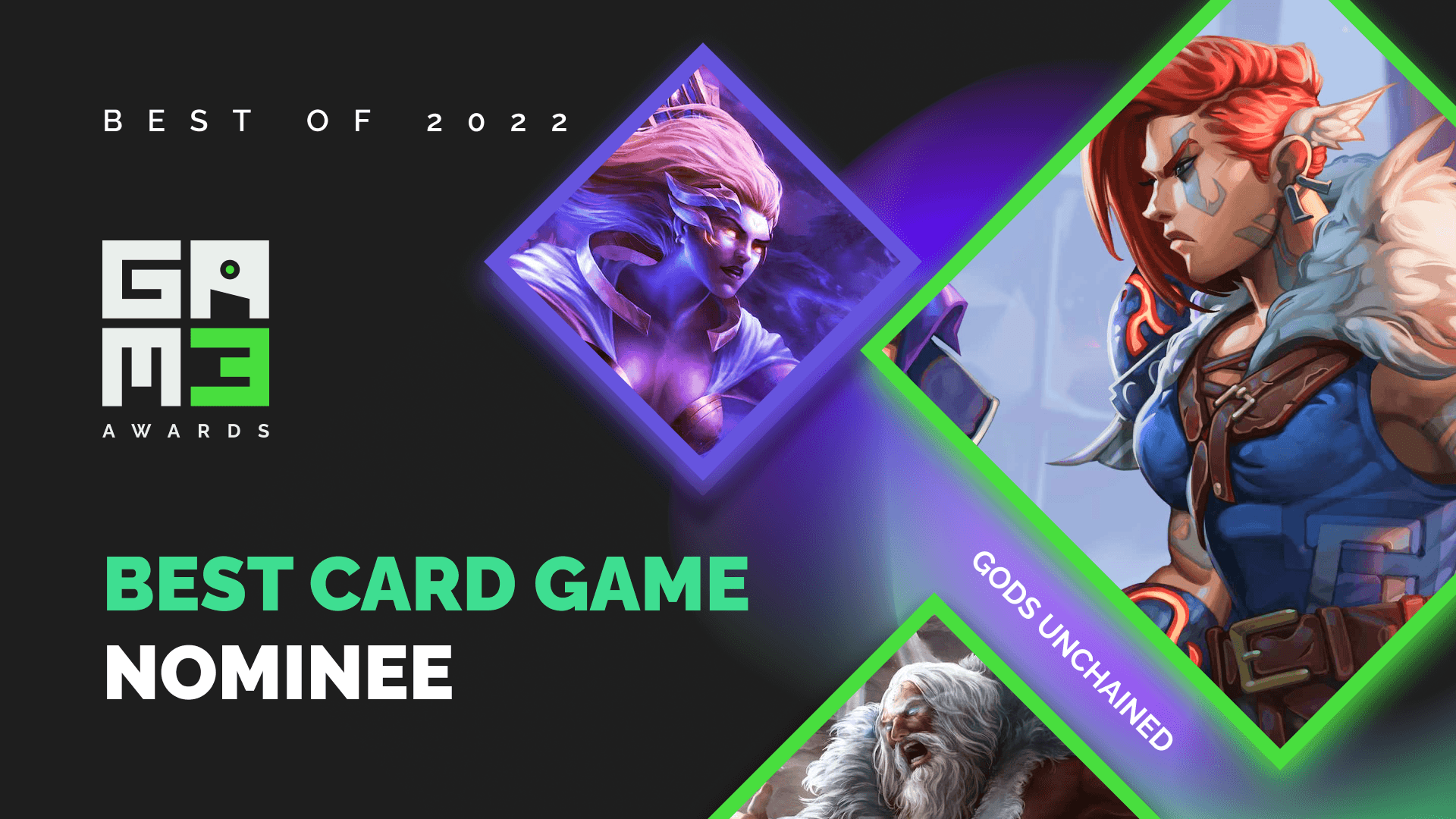 Gods Unchained will feel familiar to Hearthstone players, adopting the majority of the classic card game mechanics but adding tons of lore and diversity to its gameplay by involving, well, gods. Players need to select one of six available gods, and fill out their 30-card deck accordingly depending on their choice for synergy.
Based on the style of the deck you built and the god you chose, your gameplay will be affected whether you can close out games faster or need to hold your opponent at bay till you draw your winning combo. Gods Unchained is one of easiest entries into web3 gaming for card game enthusiasts.
Splinterlands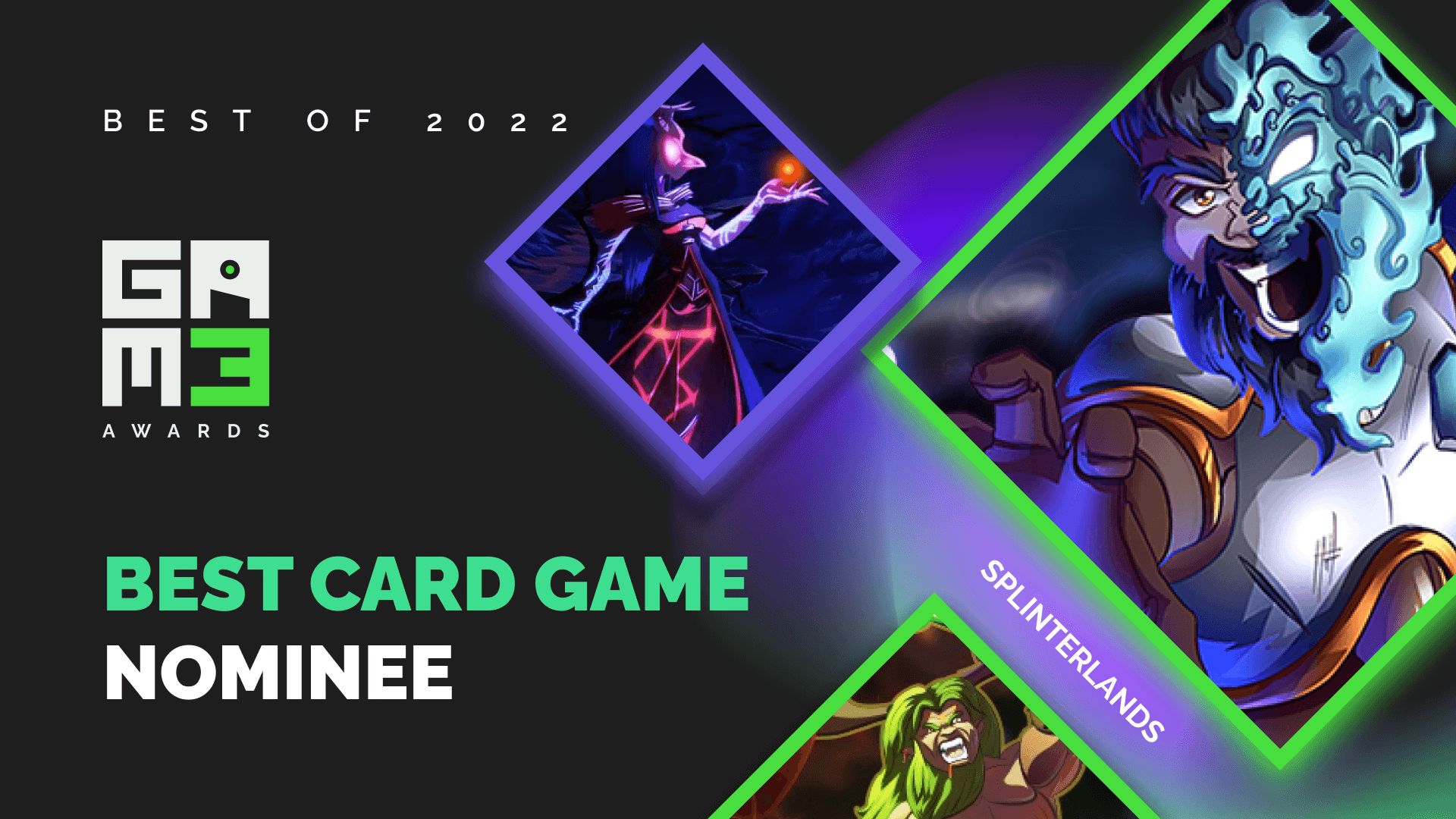 Similar to Gods Unchained, Splinterlands has been around for several years and withstood the test of time. Its core gameplay mechanics splits the battlefield into two rows with six positions. Each row serves a different type of monster, either ranged or melee.
Splinterlands at the moment probably has the most innovative deck building mechanism and battlefield structure in the blockchain card game genre. It might not appeal to everyone though as there is no direct player input during the gameplay phase and everything is simulated.
Axie Infinity Origins
Axie Origins isn't the first web3 game that springs to mind when you think of the card genre. Nonetheless, there is no denying the deck you choose to go along with your Axies assists greatly in your path to victory. Each Axie comes with its own four unique cards, giving you twelve total actions to outplay your opponent to claim the win.
Every round, players have to select the action cards they want to play for that designated turn and assign it to one of the Axies on the field. With the gameplay changes from the classic Axie Infinity formula, Axie Origins now adopts a much faster paced style of gameplay where you need to carefully consider the order and purpose of each card you play. 
Skyweaver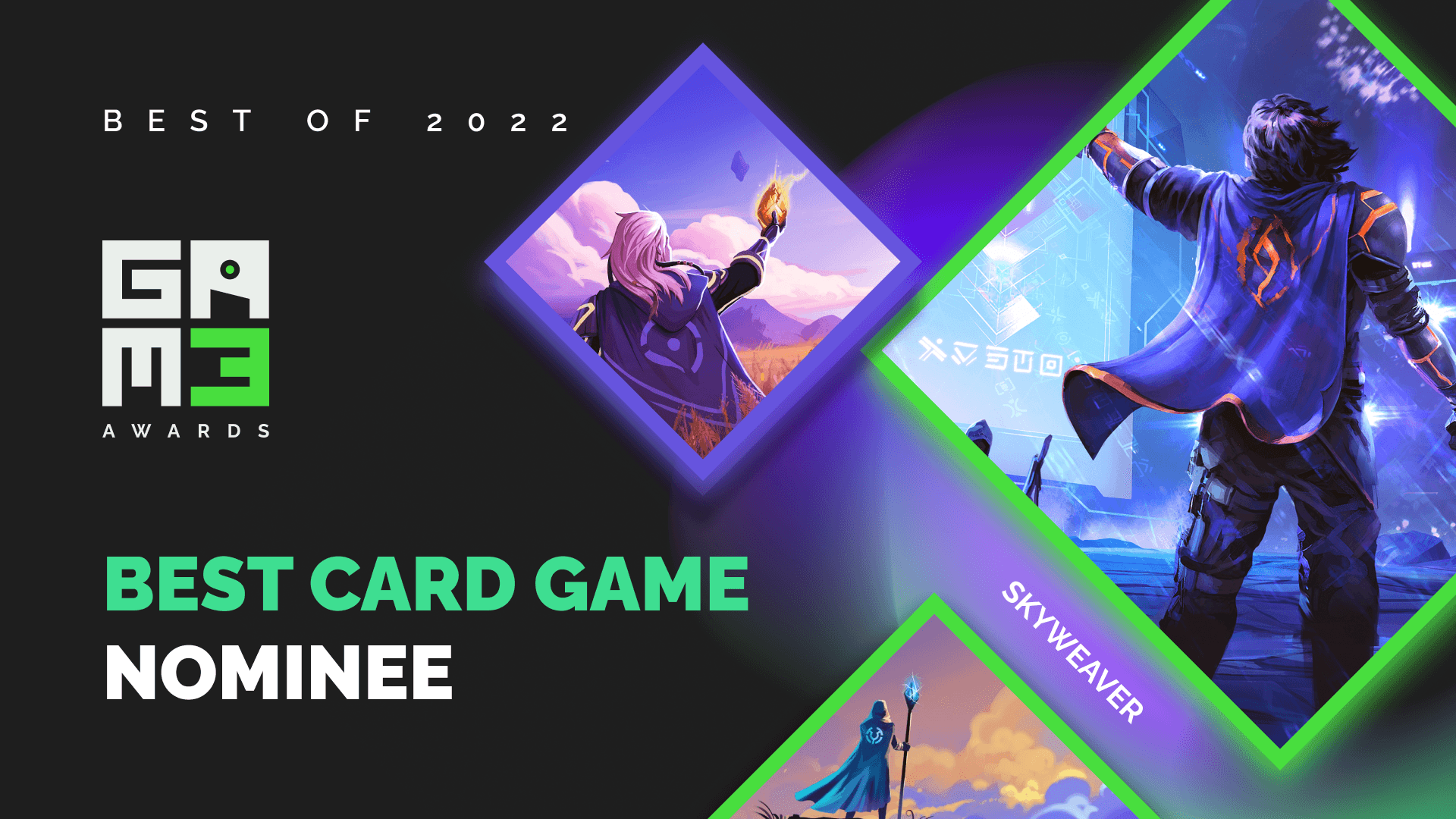 Skyweaver puts itself in a unique position with its rich lore, unique art style, and recognizable elongated hexagonal card design. Skyweaver features a different element to other card games wherein units and heroes can come carrying their own dedicated spell cards, a mechanism that adds a lot of depth and entices a lot of thought behind each spell usage.
The ability to jump into a game from your mobile, PC, or almost any other device and carry on playing with your account unlocks tremendous potential to always have an active playerbase. Skyweaver's mechanics feel innovative and new to the card game genre. The matches feel snappy and quick, keeping you always thinking about your opponent's next move, how to counter it, and how to protect your hero at all costs. With tons of variety and complexity into what each card brings to your deck alongside their synergies with your chosen hero, we can confidently label Skyweaver as the most complex card title in contention for the GAM3 Awards Best Card game category.
Cards of Ethernity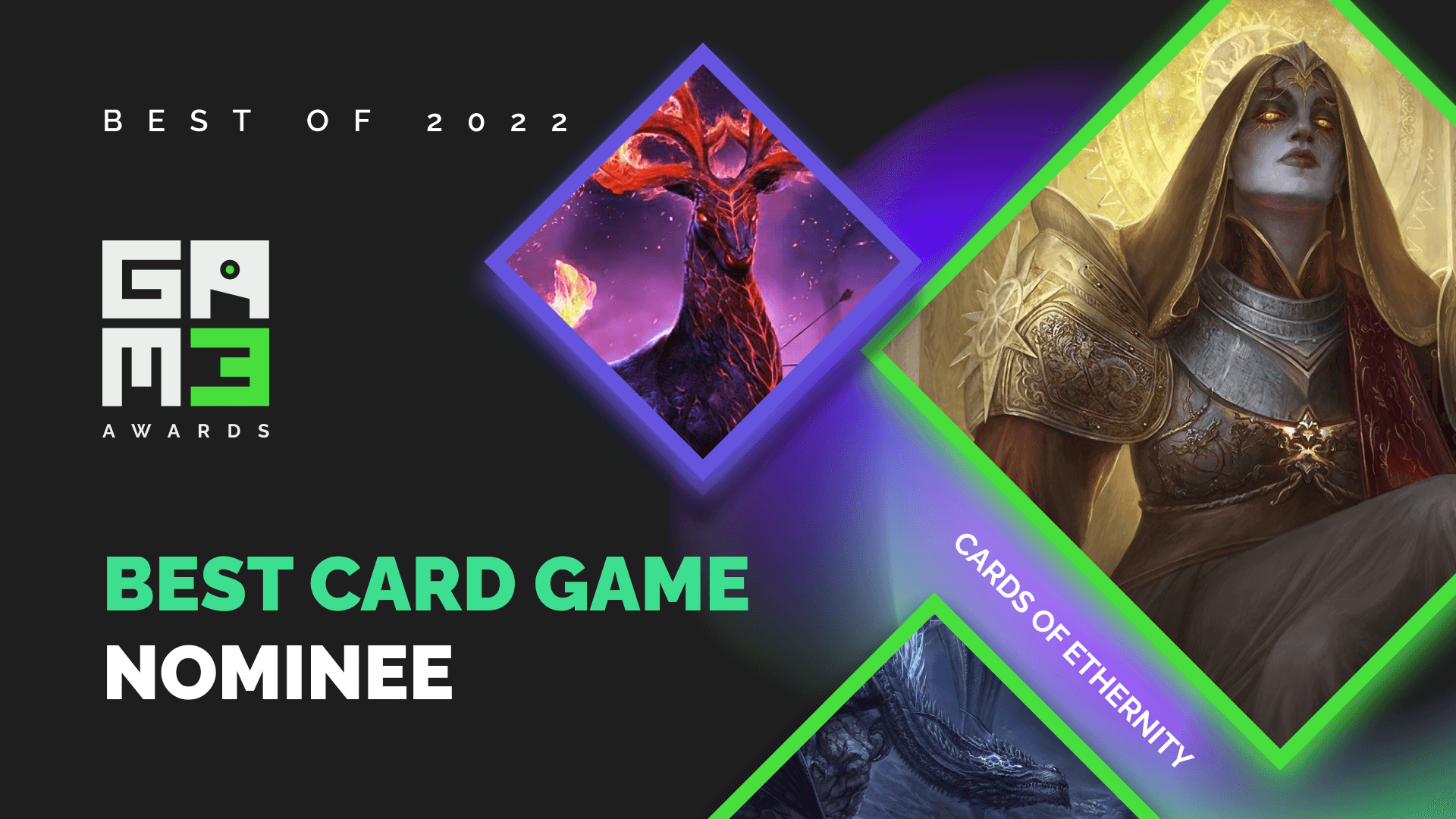 Cards of Ethernity benefits from the IP brand and world being actively built by its development studio, Aether Games. The memorable voice lines, stunning visuals when playing certain cards, and the interactions between certain characters push you to dive deeper into the game's world and get to know each adventurer or creature's history. There are a total of 150 cards available for players upon the game's release. They are split across the game's 6 creature types; Dragons, Trolls, Fairies, Beasts, Demons, and Elementals. Each one of them carry certain buffs and special abilities to cater for different playstyles.
The skill expression present in Cards of Ethernity is almost unparalleled as carefully theorycrafting your deck and thinking through the synergies between all of the 30 cards gets rewarded instantly in-game. The feeling of executing specific combos you imagined in your head when building the deck is one of the most satisfying accomplishments in card games, and Cards of Ethernity has all of those elements combined plus some.
Who do you think will walk away with the GAM3 Awards Best Card trophy? Which one do you enjoy playing the most? Share this article and tag us on any of our socials to let us know.