Overview
Gods Unchained is one of the earliest games to adopt blockchain technology alongside the likes of Axie Infinity and Splinterlands. The studio behind Gods Unchained wanted to reshape ownership for card game players who are used to getting their library wiped out every rotation. In Gods Unchained, players can completely own their digital items, giving players the freedom to trade, sell, and use their cards within or beyond the game with other titles who accept integrating their NFTs.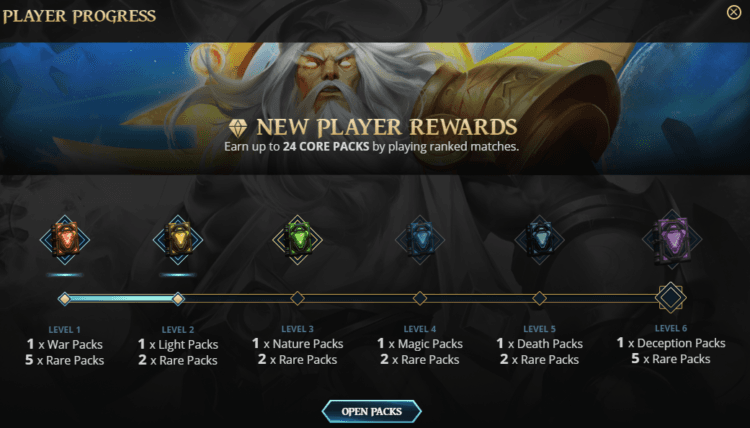 Players have 4 modes to choose from once they have a complete deck to play with, and they are:
Tutorial
Solo
Direct Challenge
Ranked
Each one of them is pretty self-explanatory, with the tutorial taking you on a journey to learn the basics and advanced mechanics of Gods Unchained before diving into its ranked system. Each game you play rewards you with XP points, and every level gives you a Card Pack to strengthen your deck.
Ranked System
With card games, your rank is the ultimate indication of your skill level. Gods Unchained possesses a complex ranking system to keep players striving for more and chasing their next rank.
There are a total of 12 ranks:
Tier 1- Rusted Bronze (B)
Tier 2 - Purified Bronze (B+)

Tier 3 - Rusted Iron (I)

Tier 4 - Purified Iron (I+)

Tier 5 - Impact Meteorite (M)

Tier 6 - Astral Meteorite (M+)

Tier 7 - Twilight Shadow (S)

Tier 8 - Midnight Shadow (S+)

Tier 9 - Auric Gold (G)

Tier 10 - Solar Gold (G+)

Tier 11 - Ethereal Diamond (D)

Tier 12 - Mythic (M)

The below image showcases the ranked section of your profile with each element representing where you stand on the ladder.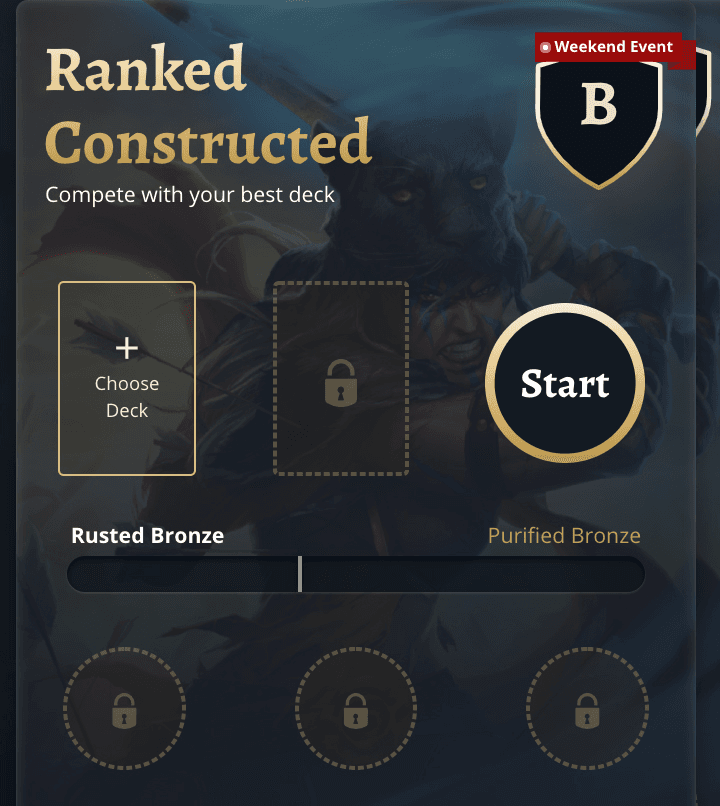 Players participate regularly in the Weekend ranked events. Their start and end timings are usually every weekend from Friday 5 am PDT/4 am PST – Monday 5 am PDT/4 am PST unless stated otherwise by the studio on socials.
Each time you lose a battle, the Shield will suffer some damage. After 4 losses, you will lose a chunk of progress from your Ranked Bar and will deteriorate to a lower rank.
On the other hand, there are two factors that contribute towards how much you can potentially earn from performing well during these weekend ranked events, and they are as follows:
Number of wins in your first 18 games of Weekend Ranked
Your starting rank before the event begins
How to Get Started
Once you have registered your Gods Unchained account, you can download the game launcher and start playing Gods Unchained. You will be greeted with a Welcome Set, which includes 2 copies of 70 cards to give you a taste of how the game works and what each god does to set you up for deciding the path and style you want to take.