Overview
FEVR Battle Arena is a football turn-based strategy game where players build decks composed of RealFevr digital collectibles (which are sports video moments such as goals and saves from the world's top football players) that become in-game assets, to battle against each other. The main objective, like in a real football game, is to score more goals than the opposition when the time expires.
The Moments
The RealFevr NFT Moments become items (game-assets) in FEVR Battle Arena that you, as a coach, will put on the pitch to compete with your opponents. These moments are bought in Packs or in RealFevr's P2P marketplace.
There are 6 different rarities:
Unique: 1 of 1 NFTs. These are the strongest moments in FEVR Battle Arena and the rarest on RealFevr's platform.
Legendries: 50 copies of each. These are the second strongest rarity in FBA, and pulling a Legendary from a pack is always exciting! You will see them frequently in 5-star decks.
Epic: 500 copies of each. Strong in the arena, these NFTs make up the majority of decks ranging from 3 to 5 stars. 
Special: 2500 copies of each. They are part of every deck ranging from 1 to 4 stars.

Common: 5000 copies of each. Grey: Unlimited. The free-to-play moments in FEVR Battle Arena.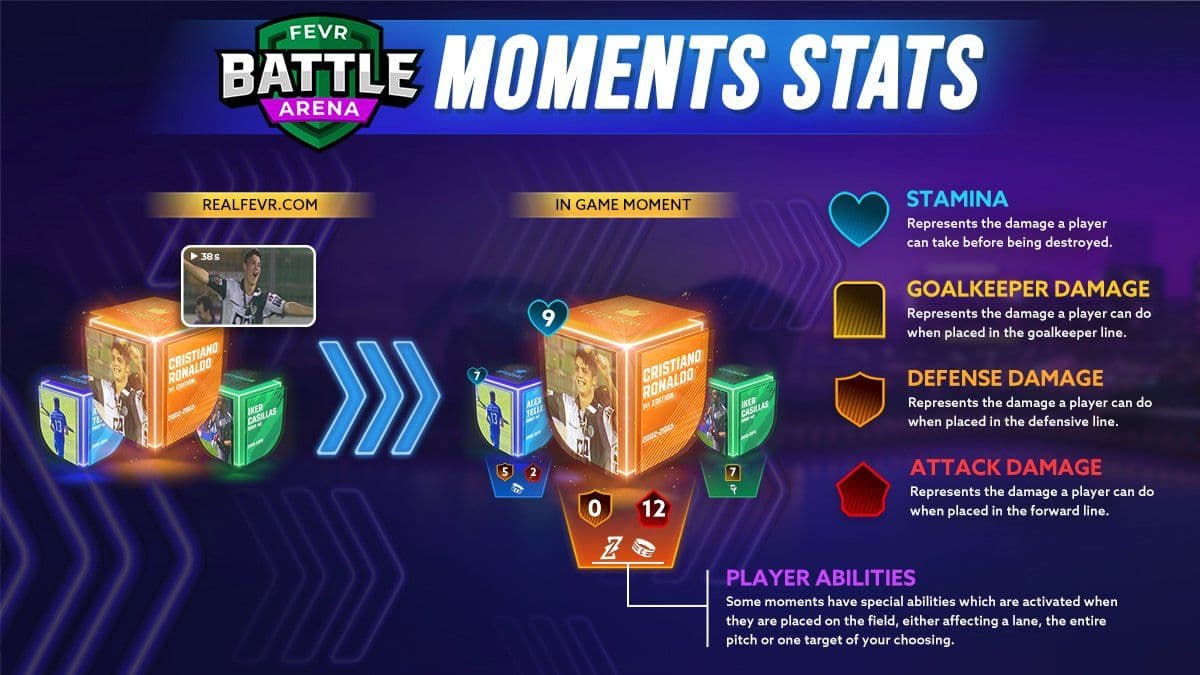 They are not NFTs (which means they cannot be bought or sold in the marketplace), and only exist within the game. You can use any tier in any kind of decks, for example legendries in 2 star decks or greys in 4 stars decks, it depends on your strategy. FEVR Battle Arena is a free to play game. You don't need to purchase any moments/packs to play the game, and you can even be rewarded playing for free, just for completing the daily games and missions.
The Game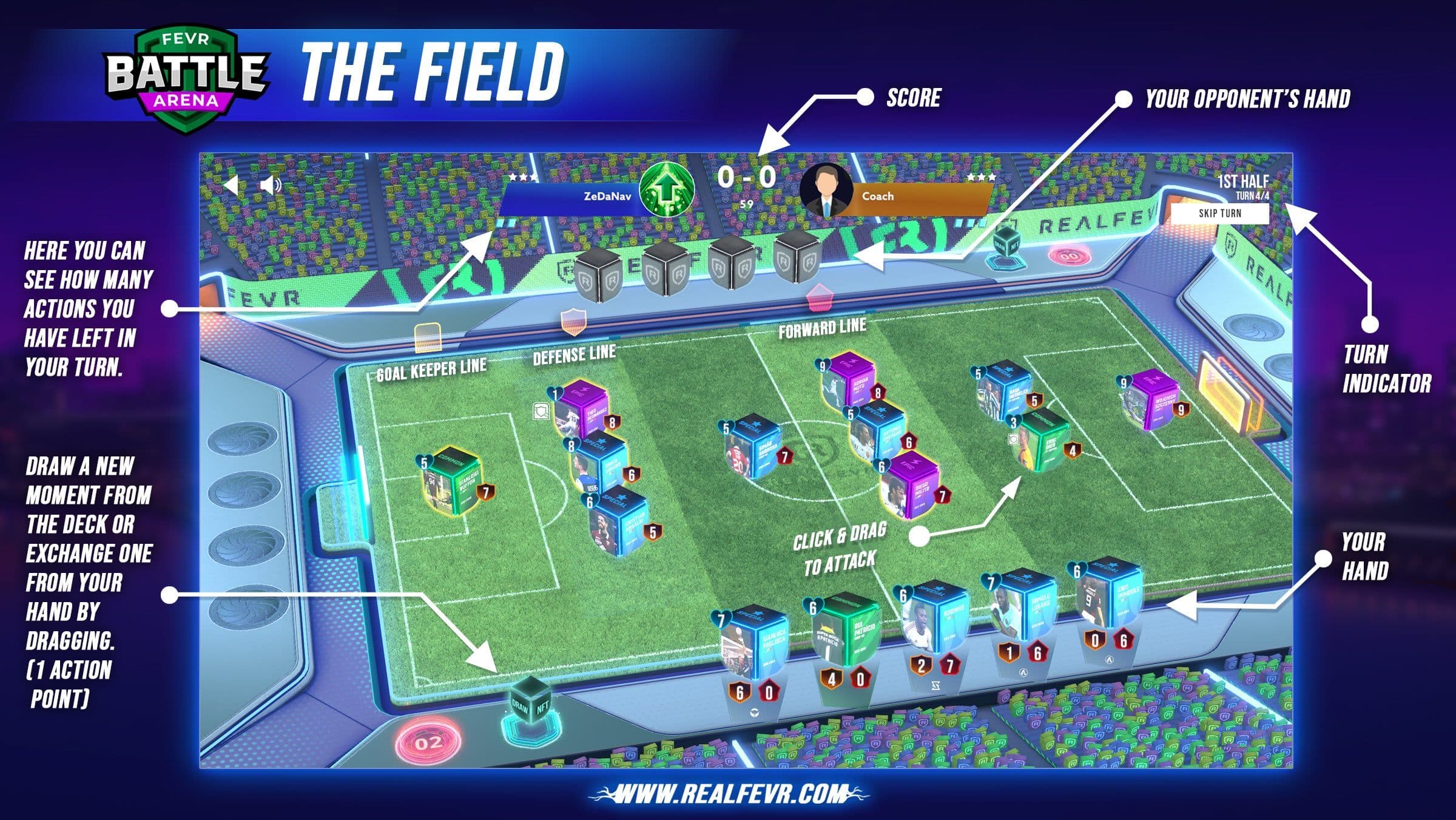 You'll notice the pitch is divided in different lanes, 2 for each player; Defensive Lanes and Offensive Lanes.
The light green lanes are yours, and that's where you can place your moments, while the dark green ones belong to your opponent.In FEVR Battle Arena, you have a limited number of actions you can perform per turn, similar to "Mana" in traditional TCG games. Every turn your action points will increase. Every action you take(place a moment on the pitch, draw a new moment and attack) costs you 1 action. However, moving moments between the defensive and forward lane does not cost you any action point.
Your objective is to "defeat" the opponent's goalkeeper and score goals. You have 8 turns to do this, divided into two halves of 4 turns each. If the game ends in a draw, you will play extra time, with 4 additional turns. If the game remains a draw after the extra time, the player with fewer moments in their graveyard wins.
The Tickets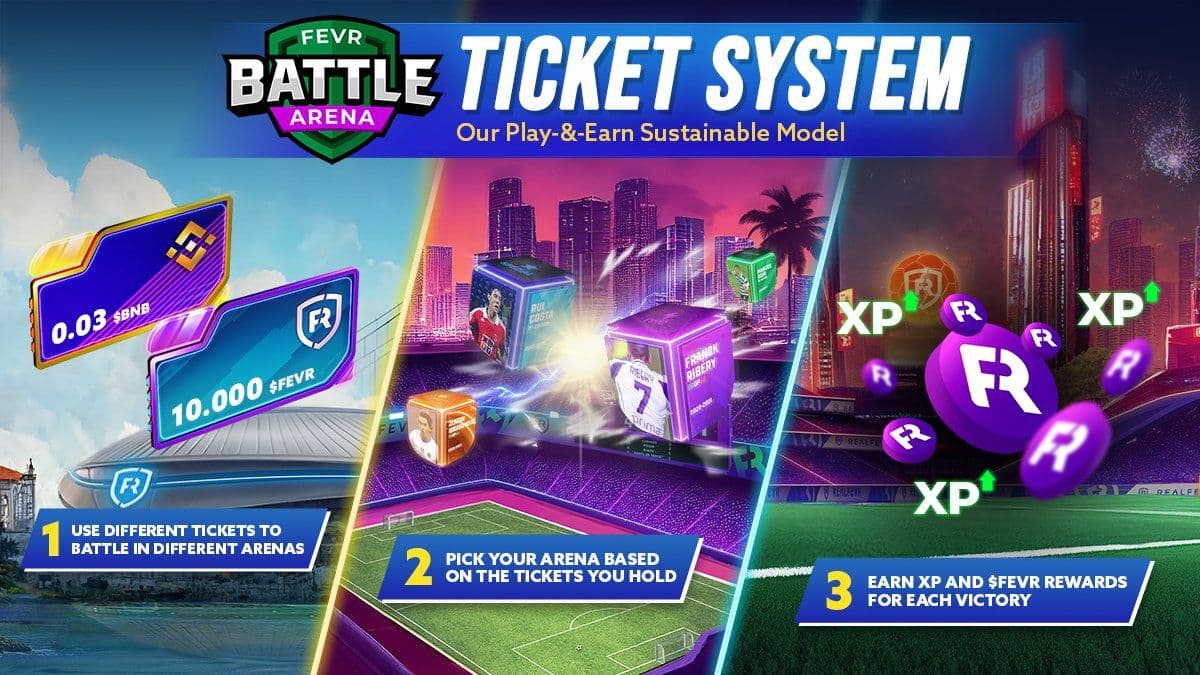 The main game mode in its Open Beta stage is a Ticket-To-Play arena system, where players purchase a ticket using $FEVR which will grant them access to a specific Arena where they'll play against another player (1V1). These must purchased on the FEVR Battle Arena Ticket Shop, either by going to the ticket shop directly on the website, or if you are in the game, go to the Store, which will redirect you to the ticket shop.
Lisbon Arena: To enter the Lisbon Arena, you will need to purchase tickets worth 10k $FEVR. The winner of each match automatically receives 19k $FEVR (as well as XP points) for each victory.
Miami Arena: This one works in the same way as the Lisbon Arena, but with BNB rewards (the native token of the BNB Chain). You will have to purchase the corresponding Miami tickets (worth 0.03 $BNB). The winner of each match automatically receives 0.054 $BNB (as well as XP points) for each victory.

How to Get Started
If you want to try FEVR Battle Arena, go to RealFevr's website and download the game. After installing, you will need to create a deck on the deck builder with 50 Moments, in which 3 are mandatory to be goalkeepers. Every player can build a deck for free by using the Grey Tier moments. It's recommended to have at least 14 defenders and include some  ball stoppers, as they will block your opponent's attacks. However, there might be other winning strategies so make sure you explore different possibilities.
After creating the deck, you have the two different game modes:
Battles: where you can play PVE (pratice), free PVP (free-for-all) or paid PVP cities (tickets).
Survival: where you play until you lose, and the more games you win, the more you will earn.

Make sure you play a game per day to complete your "Daily Game" and earn daily rewards.