Overview
The horse racing industry is often overlooked as a niche sport, but with a valuation over 3.5 Billion USD, it is difficult to ignore. DeRace is perfectly positioned to benefit from both the gaming and horse racing industries. The game is a combination of 2 significantly growing multi-billion-dollar markets: video gaming, and horse racing, all merged by blockchain and NFT technologies.
The game allows players to become whatever role suits them the most. One player would want to become the ultimate champion, while another would want to study each horse participating in major races to bet big on the potential winner.
In every role, the players can play with a different involvement, offering both active and passive gameplay. The involvement would influence the rewards earned. All players earn key benefits with activity earning greater rewards.
Your earnings potential is tied in directly with whether you are a horse owner or hippodrome administrator. The latter makes their revenue from hosting constant tournaments for horse owners to enter in exchange for a fee. One of the latest updates added tons of customization options for hippodrome owners to set the parameters, conditions, fees, and prize pool they want participants to experience whenever they interact with their stadium.
Horses, Jockeys, and Hippodromes
There wouldn't be DeRace without their beautiful horses. The Gen 0 collection features 5000 horses across 5 different rarity tiers. The below table gives you a more detailed breakdown on how much each tier contributes to the total.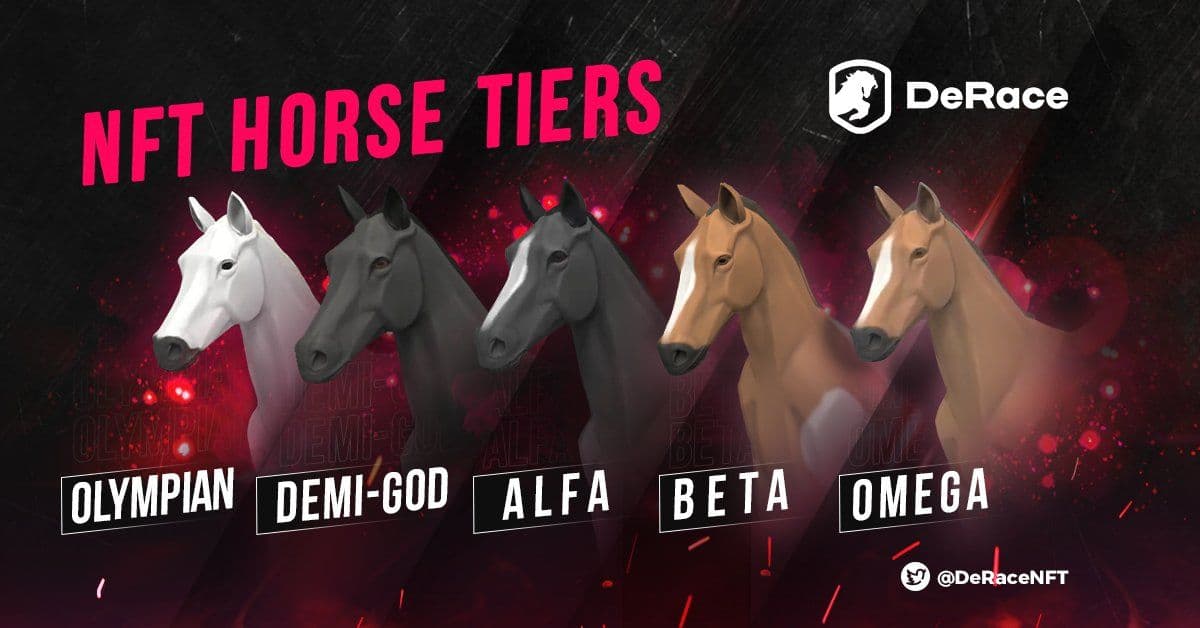 Tier 1 – Olympian – 50
Tier 2 – Demi-god – 250
Tier 3 – Alfa – 500
Tier 4 – Beta – 1,000
Tier 5 – Omega – 3,200
Outside of just bragging rights for owning a rare horse, the higher tiers hold more valuable traits and stats. The visible traits are sex, color, shape, breed, breeding and racing cool-down, while the hidden traits are reaction time, speed, and stamina. However, them being hidden doesn't mean they are any less important. In fact, speed and stamina are arguably the most influential in determining whether your horse can win a race or not. For more information on what each of the hidden stats do, check out the breakdown below:
Reaction time: how fast a horse can react to the start signal and leave the gate
Stamina: how long can a horse maintain its speed. Favored terrains can keep you going for a longer distance at top speed than others

Speed: the maximum potential speed a horse can reach
As you can see, the hippodrome terrain surface and distance directly affect your winning odds. This is where you need to pay attention as a horse owner and try to participate in tournaments hosted by hippodromes that favorite your horse's strongest points.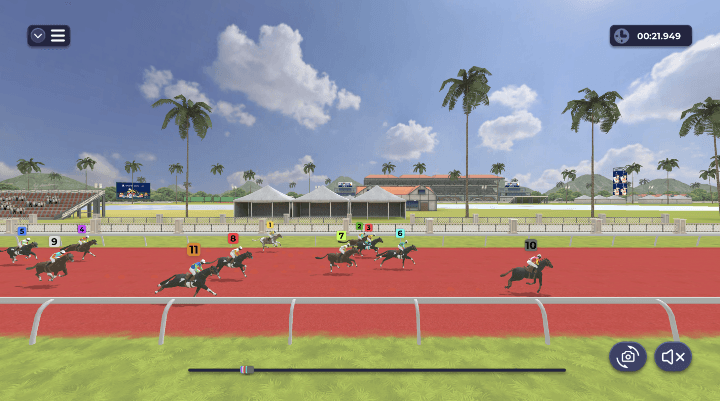 The newly added jockeys quickly became a major influence into DeRace's gameplay mechanism. Each Jockey owns a distinctive silk/uniform differing both in color and patterns, which helps them to be easily recognized during the race. Jockey NFTs can be used with any horse, however racing your Jockey more with a specific horse will enhance their bond. The stronger the bond between the rider and the horse, the better the team performs.
As in real life, each jockey has a racing style and depending on their racing style, you can adapt your strategy around that. Certain jockeys will give you a boost in the early part of the race and it is on you to maintain that lead while others have hidden traits that allow them to pick up the pace towards the final stretch for one last shot at glory.
How to Get Started
DeRace for now is only restricted to horse NFT owners, which are attainable through the platform's in-game marketplace or the Opensea collection. Outside of that, it is not possible to try out the game as there isn't a free-to-play version of the title currently available.