Overview
Thetan Arena offers an enjoyable and competitive experience that suits players of all ages. The game features a diverse set of characters for players to choose from before diving into its multiple PVP modes. With four characters on each team, team composition plays a significant role in your winning odds against the enemy team.
Not only that, the skill ceiling in Thetan Arena is one of the highest within web3 gaming since the game offers multiple modes with an extensive map pool to master if you wish to get good at the game. Wolffun Game, the development studio behind Thetan Arena, consistently organizes special in-game events with rewards and exclusive skins.
Skills
Before joining the battlefield, players are requested to select 2 skills in addition to choosing a hero. Each skill belongs to a different kind of skill sets, which requires players to make decisions more carefully to use them effectively. Skills in Thetan Arena are categorized into 3 different skill sets based on their main attributes. Each skill set is also divided into 3 different levels of rarity which are default, rare and mythical. The three different skill categories are:
Effect: Inflicting status on self, allies, and enemies.
Damage: Used to greatly increase the amount of damage in a short period.

Support: Aiding you against attacks of enemies.

Heroes
Heroes are divided into three categories; Tanks, Assassins, and Marksmen. Tanks are the frontline and have higher hit points, medium attack damage, and slow speed. Assassins aim to combo and eliminate their opponents, and have low hit points, high damage, and speed. Marksmen are the main damage dealers, they have high damage, medium hit points and speed. Skill sets are divided into three; effect skills, damage skills, and support skills.
Thetan Arena comes with various types and numbers of Heroes. Each of them has a unique special ability called Fury. Furthermore, each hero has unique stats according to their roles on the battlefield.
Thus, choosing a suitable hero for each situation helps players increase the win rate in the Arena of Thetan. There are 3 types of Heroes: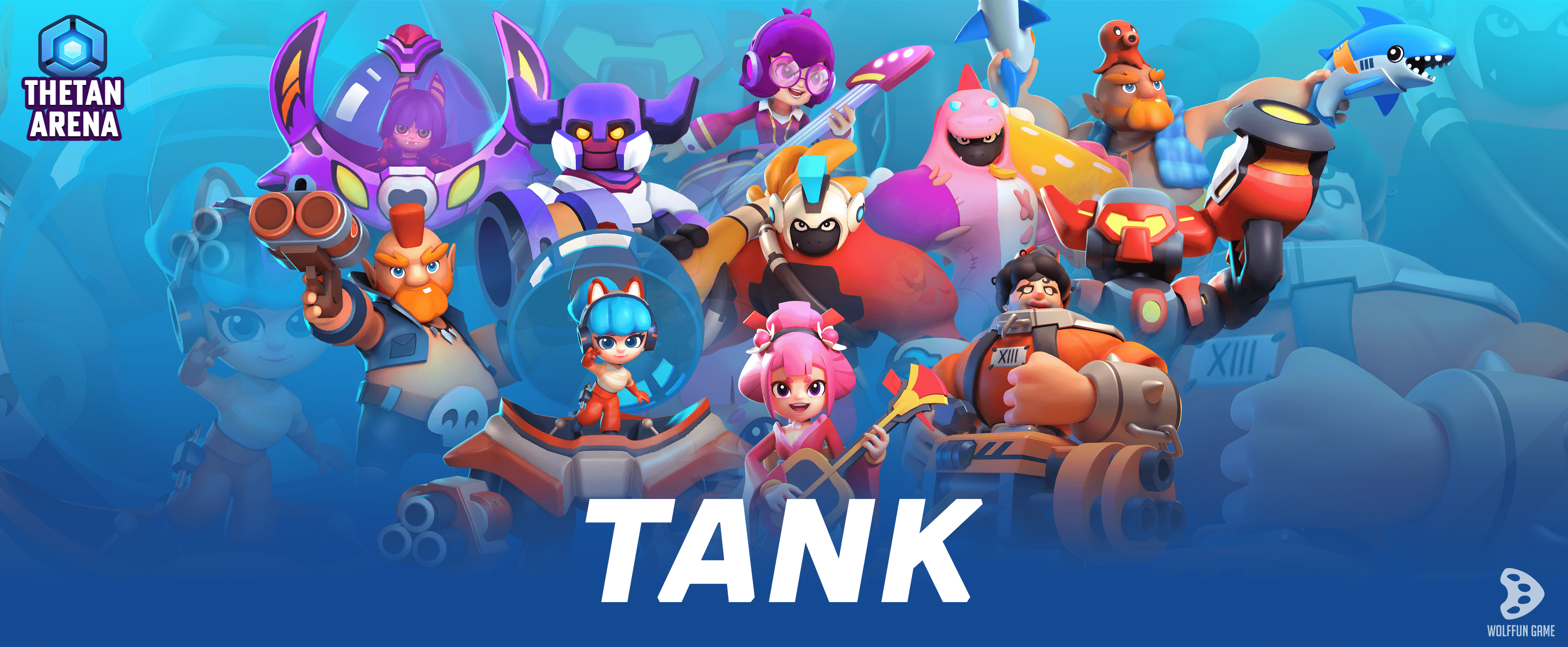 Tank
Tank heroes are responsible for becoming frontlines facing up to the enemies and preventing their teammates from receiving damage.
Health Point: High
Attack Damage: Normal
Speed: Slow
Recommended First Champ: Venka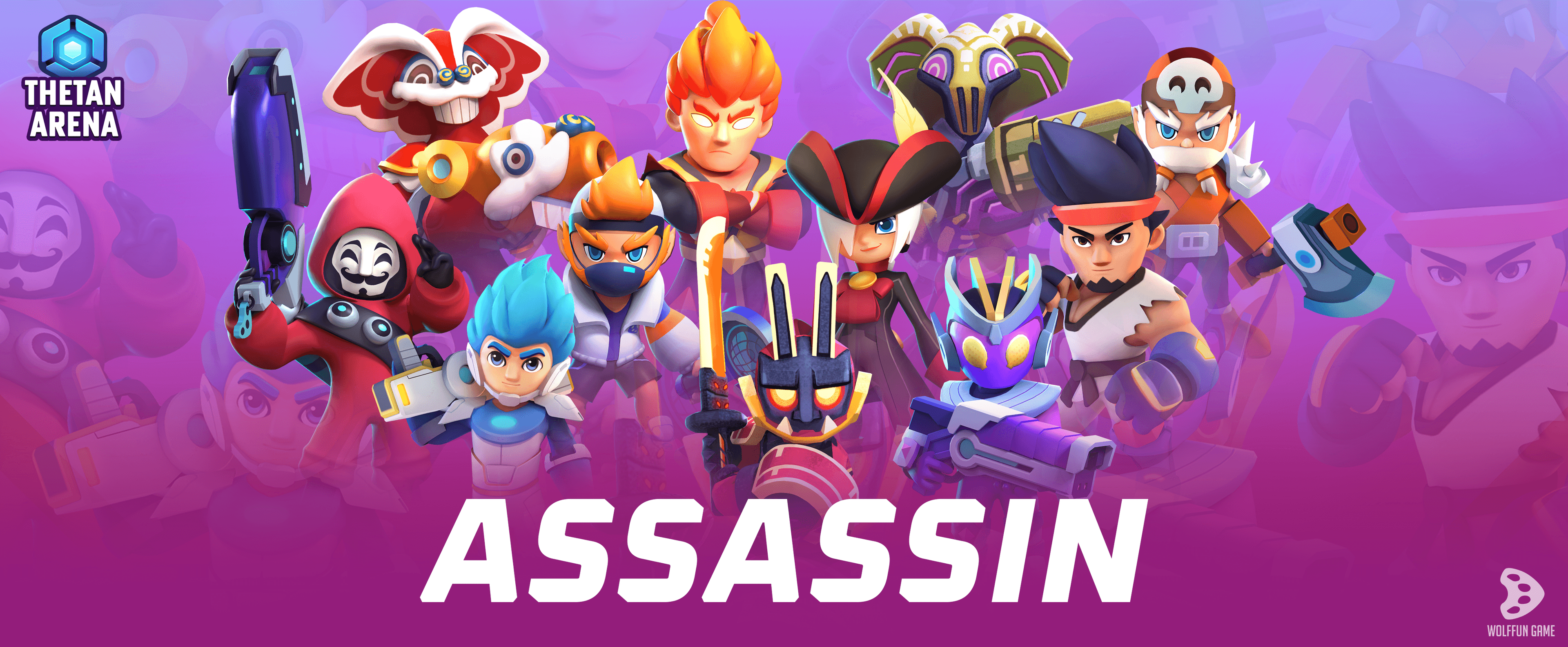 Assassin
Assassins are deadly and silent killers who can engage in the fight, eliminate the target in a single combo, and retreat without being noticed.
Health Point: Low
Attack Damage: High
Speed: High
Recommended First Champ: Raidon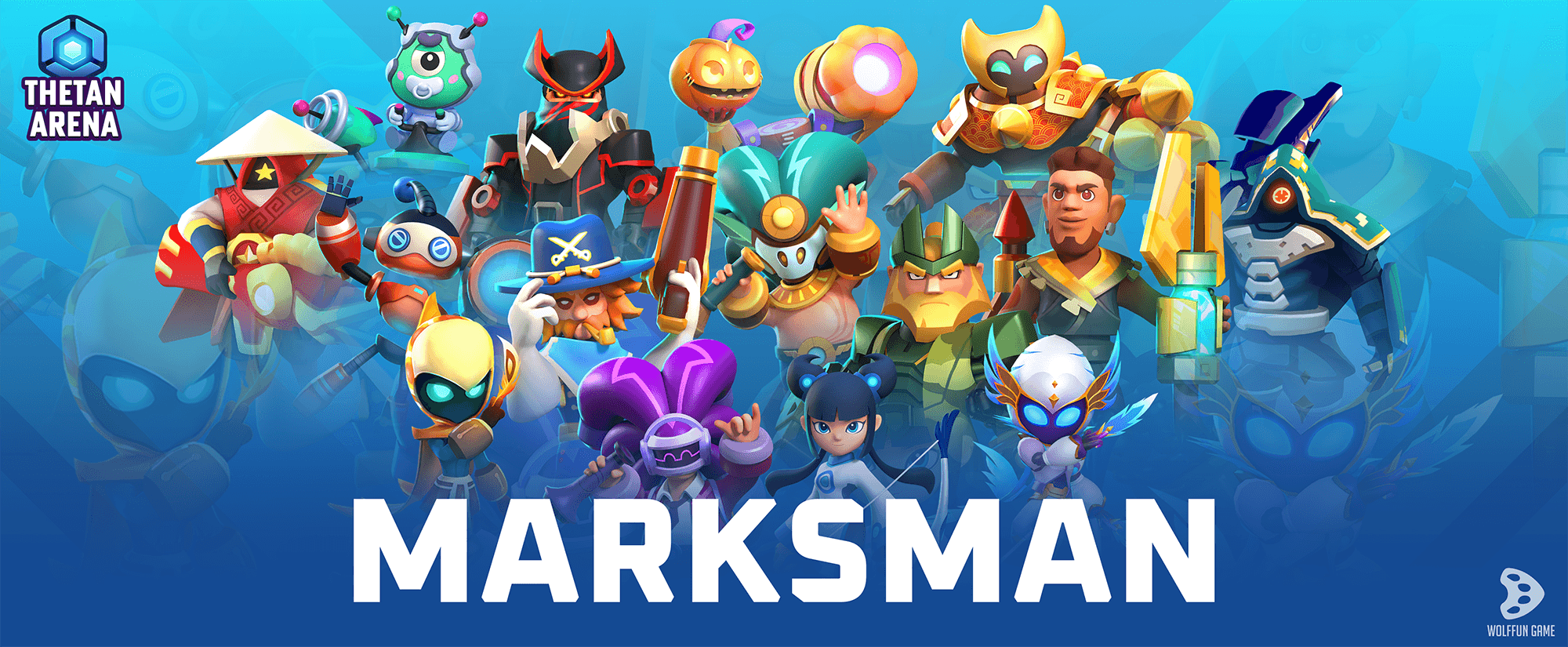 Marksman
Marksmen are the main damage dealers and are responsible for maintaining the DPS amount during the fight.
Health Point: Normal
Attack Damage: High
Speed: Normal
Recommended First Champ: Cluster
Each hero has two kinds of levels, one is the main hero level, and the other is the in-game hero level. Each hero will start a match from level 1 and can be levelled to 10.
Heroes have different rarities, higher ones have more unique abilities and playstyles. Common, Epic and Legendary heroes have different skins, these skins can either be Default, Rare, or Mythical. Trophy classes represent the mastery of a hero, which ranges from Class H to Class SS.
Gameplay
Thetan Arena's gameplay is designed to revolve around the combination of your personal skills and teamwork. 
Challenge yourself with various game modes today:
Battle Royale (Solo / Duo)
Tower Siege
Super Star
Deathmatch
Custom Battle
Each one of these modes is unique enough to give the game diversity and an engaging experience whenever you switch mode. The studio rotates the available modes periodically as well so you are forced out of your comfort zone to play certain modes which can pleasantly surprise you at times.
Considering we participated first-hand in a Thetan Arena esports tournament, the game has tremendous potential to become a leading competitive title in web3 gaming with tons of breeding room for professional players. The different modes and maps the game has to offer makes for incredibly intense matchups with very little repetition between each one and vast amount of strategy especially at the high level of gameplay.
How to Get Started
Downloading Thetan Arena
To download Thetan Arena for Mobile or PC, follow these steps:
For Mobile: Download the game from the official channels. If you're using an iOS device, go to the Apple App Store. If you're using an Android device, go to Google Play.
For PC: Download the PC version of the game from the official Thetan Arena website or a trusted game distribution platform.
Setting Up Wolffun ID (Thetan Arena Account)
A Wolffun ID is essential for playing Thetan Arena. It helps save your scores and identifies you for special programs and events. Here's how to set it up:
Go to marketplace.thetanArena.com using a desktop web browser.
Click the "Connect Wallet" button in the right corner.
Choose "Login with Metamask".
Log into your Metamask wallet on the browser and click "Next" to connect.
Choose to either "Link to an Existing game account" or "Create a new game account".
Important Note
Your Wolffun ID is permanently tied to your wallet account. Once connected, you cannot change the wallet address of your Wolffun ID. The Thetan Arena team does not support cases where the player loses their wallet, has their accounts hacked, or for other reasons wants to change the wallet address for their Wolffun ID account. Therefore, please secure your wallet and Wolffun ID account safely.