Overview
Superior is one of Gala Games' vast library of quality titles. Superior is a co-op third-person shooter where all the city's superheroes are now its own villains. You are responsible to bring the safety back to the people. Every time you start, you are unpowered, outgunned, and outnumbered.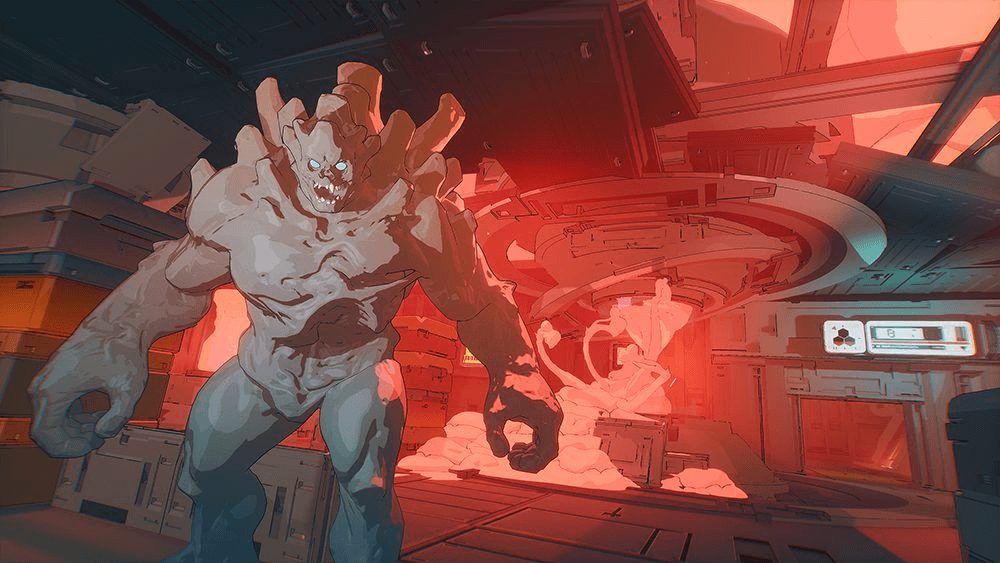 Superior is all about working together. In the game, players work with their team of three to complete missions in a squad-based format. Prior to queuing up, you can choose between the game's three characters. That includes Ronin, Nomad, and Murmur. Each of them suit a unique playstyle and cater to different players. Once you have chosen your hero and queue up, you jump straight into the Bar. This is where it all starts for every playthrough of Superior you will experience.
Every run in Superior is unique. That's because every time, you start off at the Bar to restore your health and armor, before heading out into Superior's arena to take on a series of dynamically changing objectives, enemies, and bosses. Additionally, a range of abilities—including fire and ice trails or area of effect skills—allows you to plan your tactics based on the situation and environment. Before you begin a mission, you get to choose one ability to take into battle. Choose wisely because you can't undo it once you have locked it in. You will gain character-specific levels depending on how far you go and permanently improve that designatedcharacter with a branching skill tree.
Heroes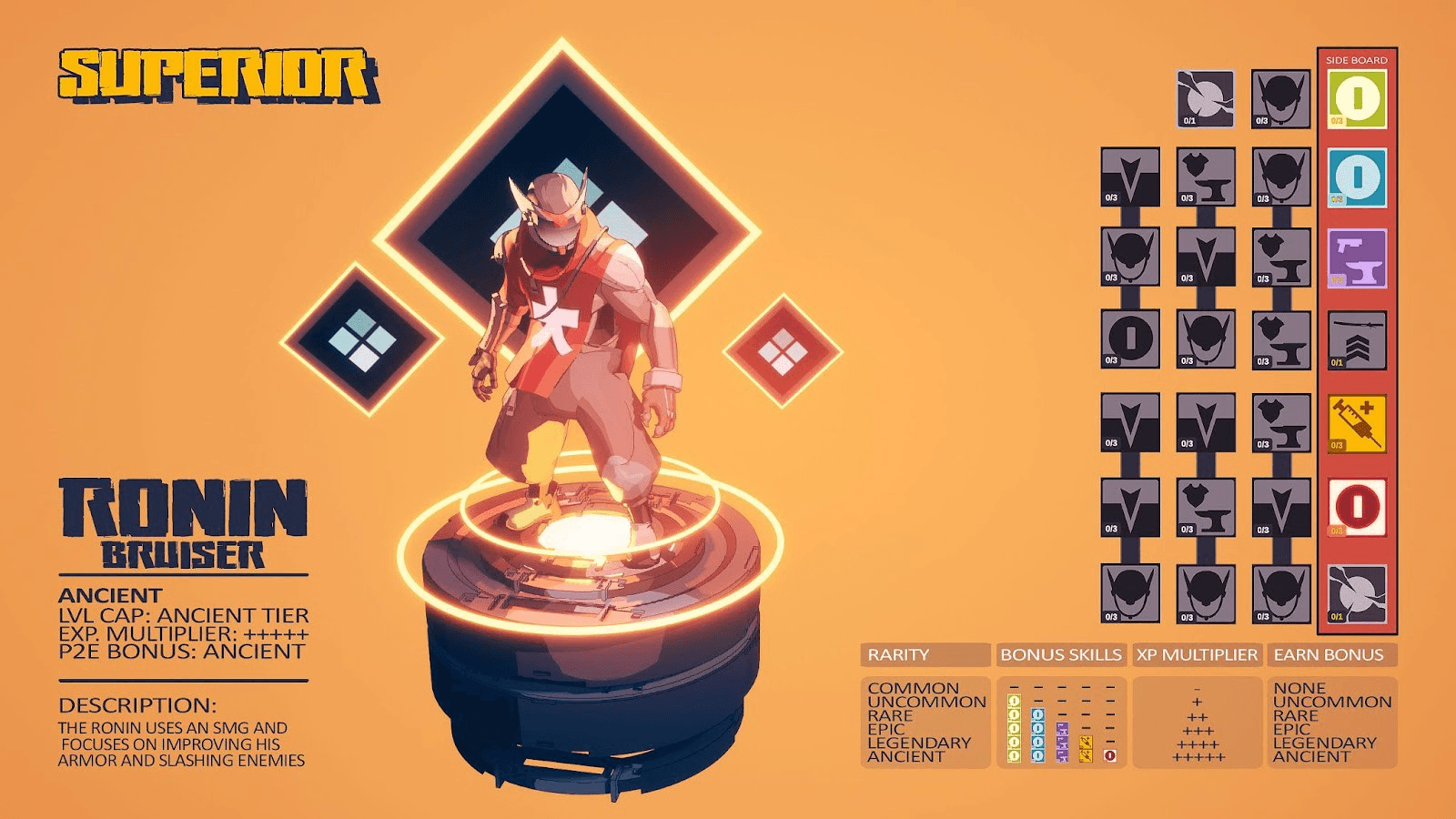 The core experience of Superior depends on the character you choose to play with. There is currently three heroes to choose from; Ronin, Murmur, and Nomad. Each one of them has a unique playing style, which pushes you to communicate with your team and pick the most suitable composition before diving nose first into slaying enemies. All of the characters are available for free for players to enjoy the game but the earning aspect is tied directly to the limited collection of NFT characters from each hero. The below is a list of benefits between the regular and NFT Superior heroes:
Higher Level Cap: Rarer versions of each character will be able to allocate more total skill points towards increasing their abilities as they progress through the game.
XP Multiplier: Higher rarity characters will receive boosted xp for faster leveling and progression.
Bonus Skills: Each tier of rarity adds powerful bonus skills to your character, giving you a wider array of tactics and strategies to utilize.
Increased Earning Potential: The rarer the NFT character, the higher its earning potential will be while playing Superior.
Gameplay
Superior emphasizes its co-op nature at every corner. Players embark on their journey in teams of three. Prior to queueing up, you get to choose which one of the game's three protagonists, each with their own special ultimate ability and unique playstyle. The roster includes Ronin, Nomad, and Murmur.
Ronin brings what might be a familiar playstyle to Genji from Overwatch. The hero is for those who like to get straight up to the face of their enemies and fight in extremely close range. Ronin goes into battle naturally equipped with an SMG and a melee sword to slash through anyone who stands dare in his way while getting tankier with more armor stats the longer the fight goes on.
Nomad offers the Sharpshooter archetype in Superior, but the team wanted to create something that wasn't just the standard sniper you see in every game. The ultimate ability grants you what essentially is an aimbot to mow down the waves of enemies coming at you at impressive speed. Probably our favorite character in the game as well with his skill set suitable for both solo wolves and team players.
Murmur, the technological genius who earned her spot to fight amongst the best warriors in Superior. She's nimble, sneaky and a little bit of a glass cannon. With tons of tools in her kit to keep enemies always guessing where she is with holograms and various mechanical tricks, Murmur enables players to be creative with their approach to deal tons of damage strategically.
You start off every mission at the Bar, allowing you to replenish both your health and armor while selecting one ability to take with you into battle. The game offers you everything from fire and ice trails and area of effect skills to Superior's special Xeno powers. On each run your mission objectives, routes, and adversaries will be dynamically reconfigured so you'll never know what waits around the next corner.
All of the mentioned above allows every player to experience a new experience on any run. You can find and theorize hundreds of different unique superpowers, weapons, items, and abilities. The selection of your abilities at the start dictate the subsequent ones you will have available in the shop in between missions if you survive. There are millions of potential combinations to try out.
How to Get Started
Superior launched in Early Access on November 16th, and is currently available to play via Steam and Gala Games platforms. This marks the third playtest within the past three months.  All Prime NFT holders will have all their progress on their skills and Characters saved and carried over to the game's full launch. At the same time, the Steam version won't register this progress as they have separate registrations but players will be free to party up cross platform and play together.
Superior holds regular playtests and early access for everyone to get to enjoy the game through the Gala Launcher and the Epic Games Launcher. Once the full game is live, everyone is allowed to enjoy it without the earning aspect.