Overview
The Rumble Kong League is the ultimate digital sports entertainment platform. Starting with 10,000 NFTs (The Kongs) that serve as playable characters on the court, RKL is the metaverse's premier sports league. We are bringing together popular features from the blockchain, gaming and entertainment industries, such as collectibles, social avatars, engaging gameplay, play-and-earn functionality and highly brandable content. The Rumble Kong League is using these features and adding their own vision to create a next-generation sports-based universe of playable NFTs with digital value.
Kongs
Rumble Kong League has been created with a multi-rarity approach, which creates multiple secondary markets. The Kongs not only look amazing but also have two key components that affect their potential value and in-game performance: Traits and Boosts. We will dive deeper into Boosts to make sure you are aware of what makes each Kong better or worse than the one next to it in-game, since traits are more towards aeshetic and visual appearance.
Every move a Kong makes will be affected by one or more of the boosts. While not exhaustive, the list below provides examples of the types of actions that the different boosts will influence.
Defense boosts will affect blocking, intercepting, stealing, snatching, and move speed
Finish boosts will influence dunk chance, move speed, dash chance and agility against blocks

Shooting boosts will affect shooting distance and accuracy

Vision boosts will influence pass distance, pass accuracy, jump ball, handle against steals and dash chance.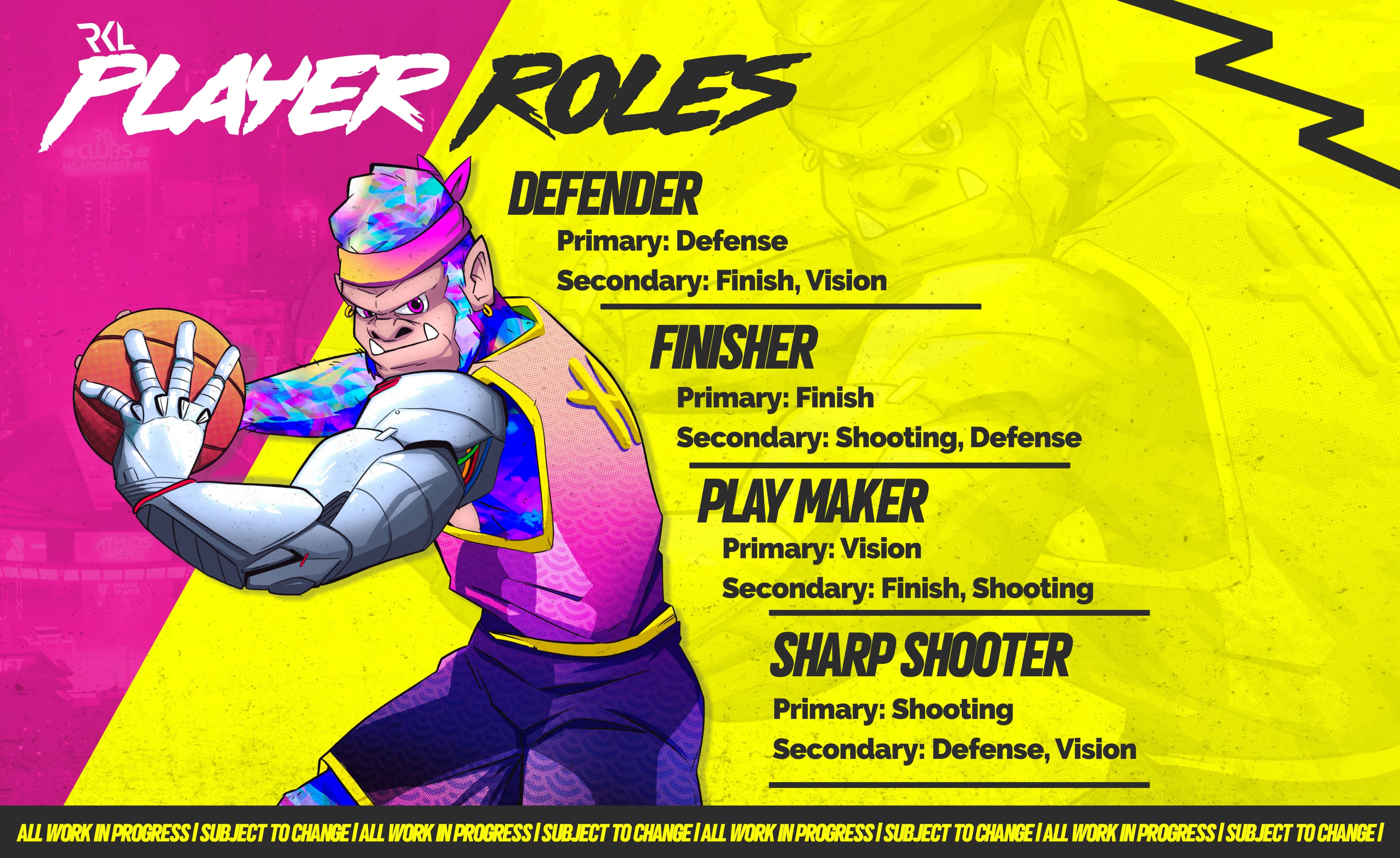 To increase variability, some actions will also consider the Kong's total boost score. The total score is the sum of the numerical stat attributed to each of the four mentioned boosts above. Additionally, some actions will take into account only the highest or lowest boost score. It's worth noting that basketball is a team sport, and the team dynamic will also interact with the boost system. Kongs will be able to collaborate and temporarily support their teammates. , 
Clubs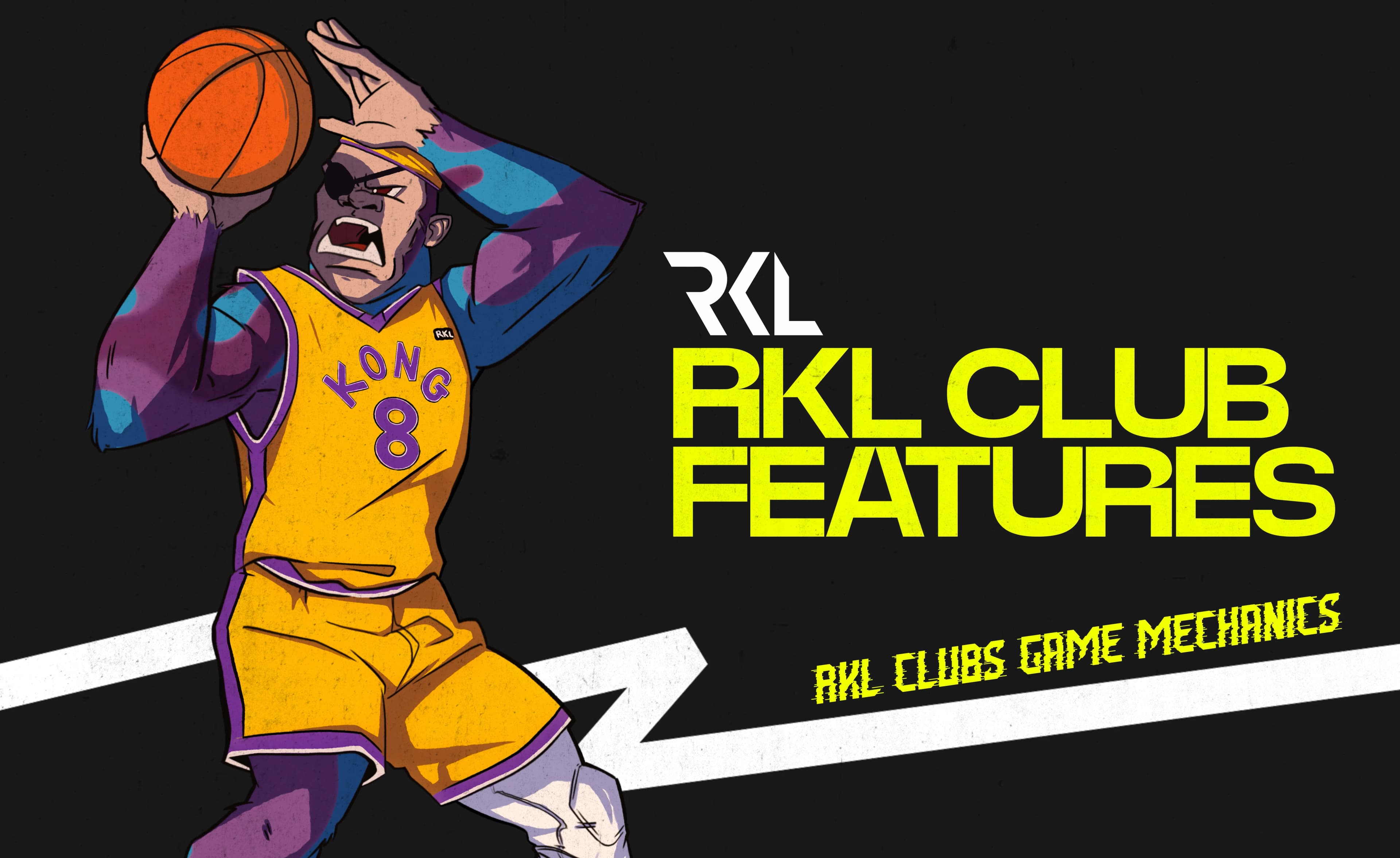 A club in RKL is a separate entity within the ecosystem that operates independently from Kongs, but heavily interacts with them. A club is a community where one or multiple Kongs can join to compete against other clubs in the league or in casual play such as pick-up games. Anyone can potentially become a club owner and it may be the only aspect of interest within the Rumble Kong League.
The Rumble Kong League consists of 10 divisions, with each division having 30 clubs, making a total of 300 clubs. Each club can have up to 30 Kongs, allowing for a total of 9000 Kongs to be part of a club. Additionally, there will be 1000 Kongs available as free agents.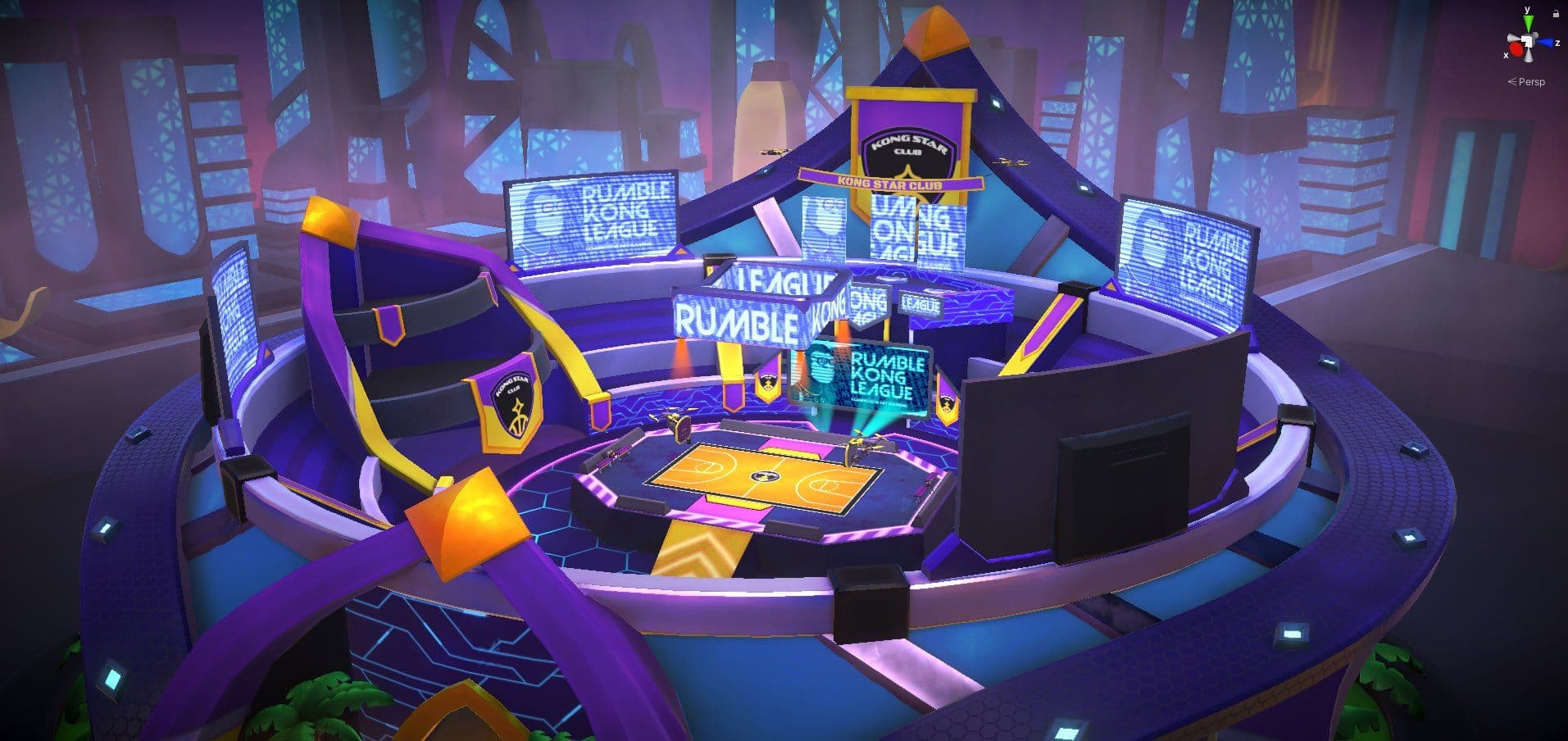 Club owners will have a different gameplay experience, focused more on team management, such as synergies, substitutions, and making tactical decisions rather than performing well as a Kong. Unlike Kongs which are predesigned, Clubs are highly customizable, giving the club owner almost complete freedom to create a unique club identity.
Championship matches take place in the arenas of the participating clubs. Rumble Kong League Club owners who host games, tournaments, and special events may also charge a fee for watching and participating. When not hosting a match between teams, arenas can be used for training Kongs, enhancing their boosts and other attributes. 
Game Modes
Rumble Kong League will have three modes: casual, ranked, and club. Casual mode is a place for experimenting with strategies, team selection, abilities and determining which Kongs are best suited for specific positions. Consider it as a lab for finding the perfect formula for your winning team.
At the moment, each game will have a 5-minute duration and a 24-second shot clock, requiring players to come up with the best strategy to defeat their opponents. Casual mode is ideal for familiarizing oneself with the game, understanding the intricacies of each feature, and carefully planning how to excel in the ranked leagues.
Ranked mode is a play-and-earn game mode where players can earn rank points, tokens, and in-game rewards. To enter the ranked mode, players must have a full team of three Kongs, either by owning or renting them. The system will search for an opponent and the game will start once a match is set up. The matchmaking process will be based on the player's rank and tier. As the gameplay is asynchronous, if the matchmaking takes longer than 30 seconds, the opponent's team will be a copy of the existing one from the player's current division and will be controlled by an AI.
How to Get Started
The Rumble Kong League is currently under development, and the public testing phase is set to begin sometime in 2023. The best way to gain priority access to this exciting new web3 sports game is by owning a Kong NFT. As a Kong NFT holder, you will be among the first to experience the game, test new features, and provide valuable feedback to the development team before the official launch. Be sure to keep an eye out for updates on the official website and social media channels for more information on the testing phase and how to participate.