Overview
Metarun is a runner game that offers a blend of conventional gameplay mechanics and smart-contract-powered features such as NFTs, DeFi, and blockchain. Players can earn in-game currencies to upgrade their characters, abilities, pets, and visual styles. With single and multiplayer modes, the game offers actual ownership of assets through NFTs and a marketplace built to support its ecosystem. The environment is detailed, full of interactive items, and each game level is carefully crafted to offer unique visual styles and diversified obstacles that players must overcome to survive.
Characters
Metarun offers a variety of characters, each with unique active and passive abilities that players can use to win in the battle mode (PVP). Currently, there are three classes - Craftsman, Fighter, and Sprinter - with each hero possessing different stats and skills that cater to specific playstyles. To increase a character's effectiveness and value on the external market, players can improve their characteristics and appearance.
The different gameplay entities used to describe each character include their class, characteristics, abilities, rarity, and skin rarity. The class of the character determines the mode and purpose for which the character will be most effective. The Craftsman class relies on the proper use of their abilities and gadgets and is suitable for players who want to win with their "wit" and "cunning." This class has low levels of health and damage, a large mana pool, and character abilities that impose various effects on enemies.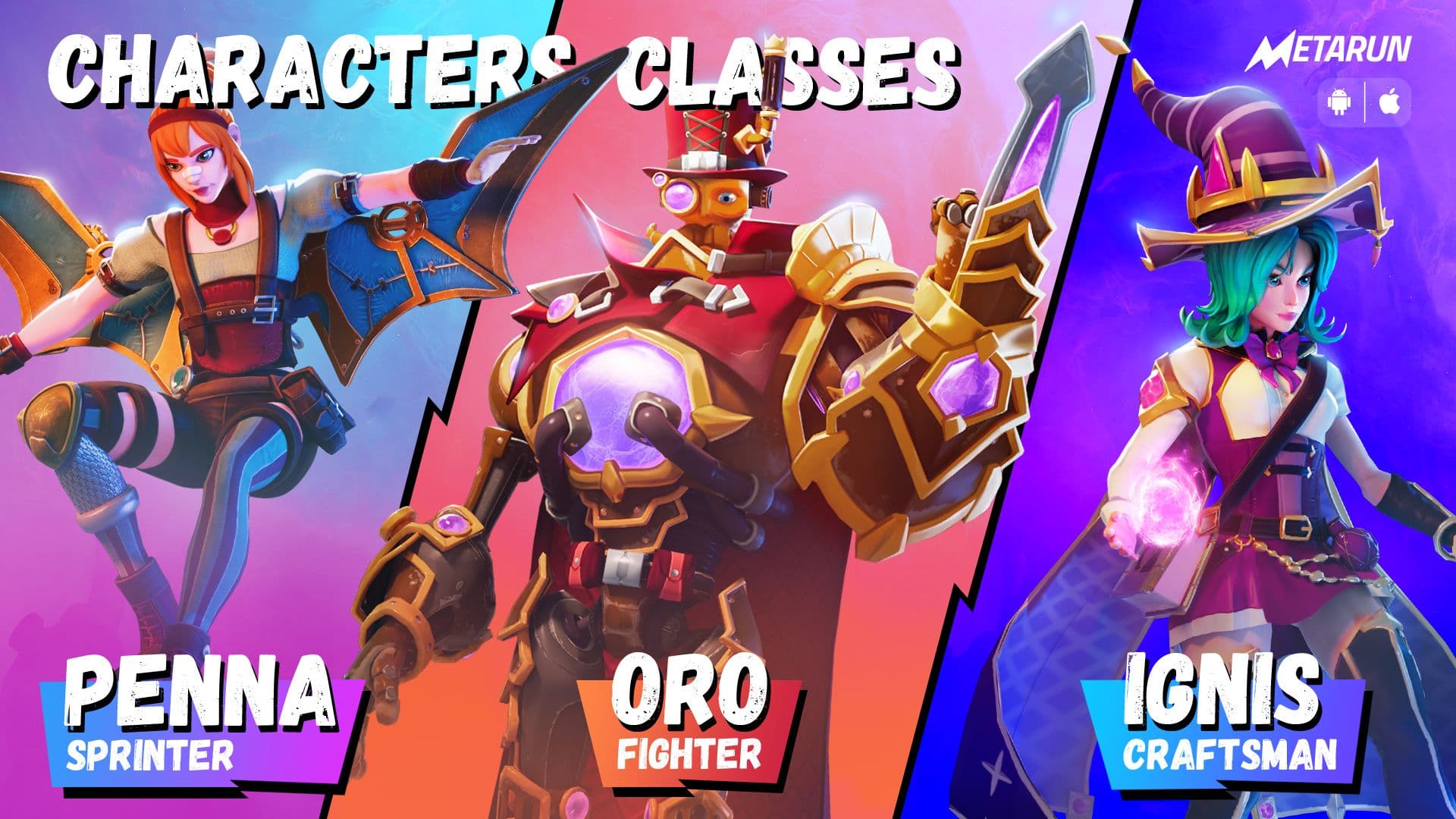 On the other hand, the Fighter class relies on high health and significant damage, making it suitable for players who want to win through brute force. This class has a high level of health and damage, a small mana pool, and character offensive abilities that deal a lot of damage. The Sprinter class relies on high speed and defensive ability, making it suitable for players ready to win due to reaction speed. This class has low levels of damage and health, a small mana pool, and character abilities to increase movement speed and avoid danger.
Game Modes
Metarun offers two exciting gameplay modes - Endless-Run (PvE) and Battle-Run (PvP) - that provide players with an engaging and entertaining experience.
In Endless-Run mode, players must advance as far as possible while passing obstacles and enemies to collect as much GOLD and SAPPHIRE as possible. Players can also complete missions, kill monsters, and pick up GOLD to earn soft currency for PVE. Additionally, players can earn OPAL by completing daily tasks. There are no victory conditions in this mode, but players can earn rewards such as trophies, soft currencies, and additional rewards for completing daily tasks. If a player is killed, they can use OPAL to continue the race from the last point and restore all character resources.
Battle-Run mode is a competitive and entertaining multiplayer mode that encourages user engagement. Players can refine their skills by practicing in single-player mode and then test them against other players in multiplayer mode. In this mode, multiple players race to outrun their opponents and earn OPAL, increase character rank, and glory points. The objective is to overtake the opponent and reach the finish line first. The rewards in this mode include glory points, trophies for winning, DIAMOND for winning PVP, GOLD from the ground, SAPPHIRE for killing opponents, and OPAL for winning and losing.
How to Get Started
Metarun is currently in its Open Beta phase, with regular updates released periodically to address player feedback as well as add new features and content for players to enjoy. You can easily try the game out for yourself through downloading the game on mobile, available on both iOS and Android.