Overview
Cyball forms a perfect combination of genres, with sports and strategy put into one experience. The title's world and unique characters allow the team to design compelling lore and background stories within its universe.
The CyBall game engine combines different elements of strategy, simulation and chance into the form of an exciting and competitive turn-based football card game, where players compete to see who can score the most goals. Players train up their CyBlocs to compete in various game modes with varying levels of rewards. Existing CyBlocs can also mentor young CyBlocs, creating the next generation of unique NFTs. In future expansions, we aim to give players more ways to spend accrued rewards, both in CyBall and in the wider CyBloc universe.
Cybloc Classes and Traits
Cyblocs represent your Cyball team. You have three slots to choose your best players to take with you onto the pitch. There are Bronze, Silver, Gold, Platinum, and Legendary classes. The Class directly determines the range of a CyBloc's starting Skill ratings and subsequent growth potential.
For example, a Bronze Cybloc at level 1 can only achieve a max overall rank between 44 and 48. This means you will never find a Bronze level 1 Cybloc with a rank above 48. This scales as you continuously upgrade your players and participate in more matches with them.
A point to heavily take into consideration when selecting your Cyblocs is their Traits. It is an underlying passive ability that can assist you massively in shifting the tides of the game in your favor when you need it the most.
Outside of your dependency on the face value stats of each player, there is a total of 50 traits with 3 rarities; Common, Rare, and Super Rare. Below is a brief list of abilities from each rarity to give you an idea of what they bring to the pitch:
Team Player: All of this CyBloc's skills are boosted by +4 when it plays in a Tandem event - Common
Show-Off: All of this CyBloc's skills are boosted by +4 when it plays in a Solo event - Common

Front Runner: All of this CyBloc's skills are boosted by +6 if your team is leading at half-time - Rare

Tenacious: All of this CyBloc's skills are boosted by +10 if your team is trailing at half-time - Rare

National Superstar: For each match, there is a 50% chance that all of this CyBloc's skills are boosted by +12 - Super Rare

Ditto: This CyBloc copies the strongest in-play skill from its teammate in a Tandem event if the teammate's respective skill is higher- Super Rare

Game Modes
Cyball currently offers Exhibition matches. As the name suggests, Exhibition mode will provide a more relaxed, non-serious gaming experience where most users can practice, enjoy and earn some rewards as it will feature CyBall's primary Play-to-Earn mechanic.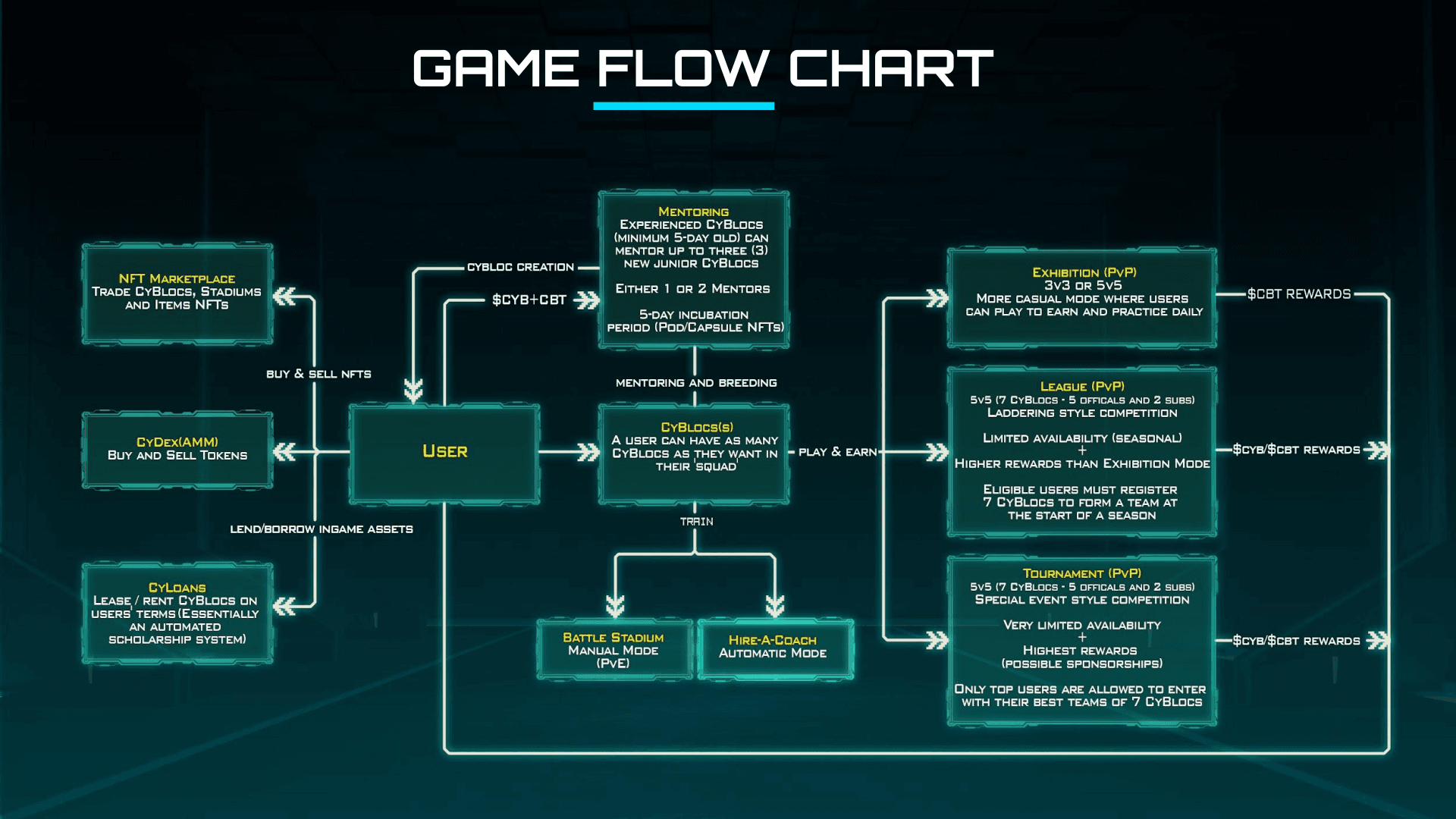 There are a bunch of modes in development that are bound to capture player's attention. This includes League and Tournament specifically. League mode is where users compete to rise to the top of the ladder. This mode runs season by season and may be split into multiple levels to cater teams of different ratings.
The tournament modes on the other hand will allow players to enter a knock-out style tournament for the chance to win a prize pool. There is a lot of yet to be announced information regarding tournament, whether it will require a buy-in, type of prize pools, how often can players play tournaments, among a number of different elements.
How to Get Started
Unfortunately, there is no free-to-play version for players to enjoy. To kick off your Cyball career, you need three Cyblocs to start.
You can acquire them through two methods; searching for available guild spots to become a scholar and receive the NFTs in exchange for a revenue split or acquire the Cyblocs from the game's marketplace.
Once you have 3 Cyblocs in your wallet, you can play Cyball directly on the game's website in its new Reborn version.