Overview
Crypto Unicorns game features awesomely unique unicorn NFTs that players can utilize in both farming simulations and battles. Crypto Unicorns is primarily a simulation and tycoon game where players purchase Land NFTs, which can be upgraded over time. Land powers our community-owned economy and is where Unicorns are bred, hatched, and evolved.
The game features Farming, Jousting, Racing and Team RPG Battle. Each game type is better suited for specific Unicorns and their respective abilities. As an example, a really good racing unicorn may not be a great jouster or Battlecorn. As for the Farming side of Crypto Unicorns, Land NFTs are the basis of it all. Players can put them to work in order to increase the production of Land and craft materials to upgrade buildings. In this way, players can customize their Farm and show it off to the world by combining individual Lands into neighborhoods designed for highly social gameplay.
Unicorn Classes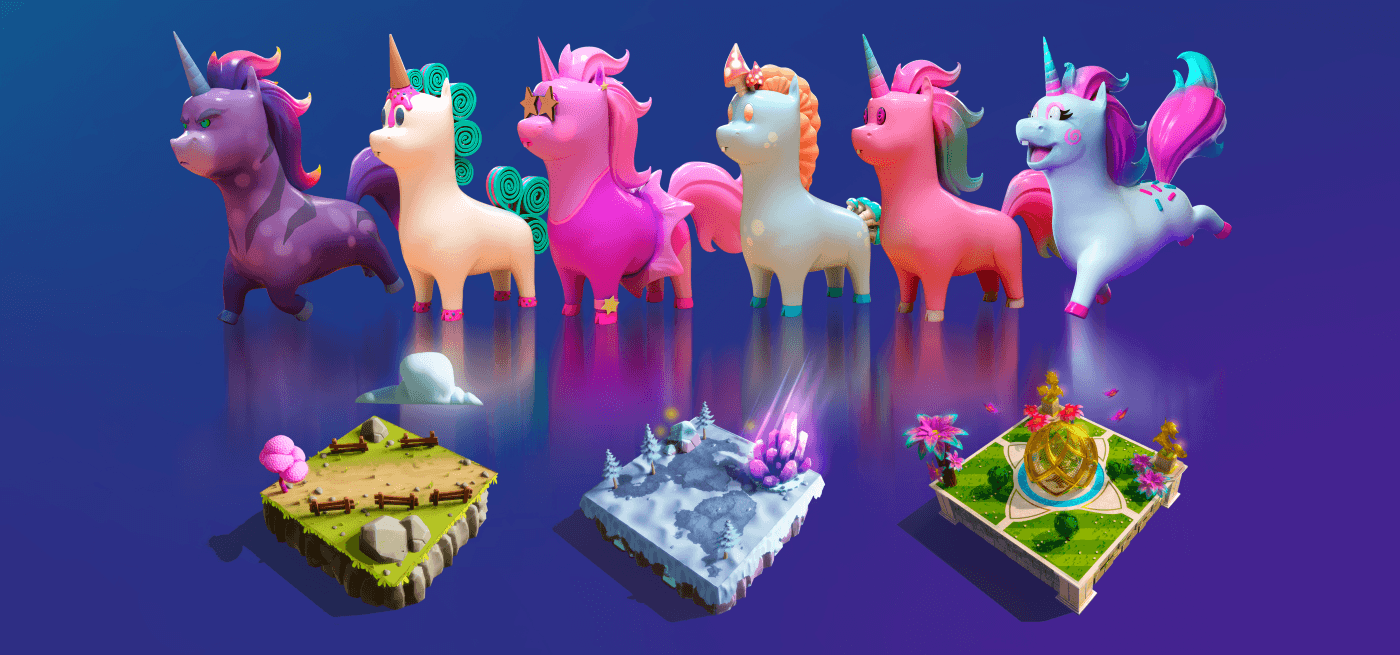 Crypto Unicorn NFTs begin their lives as eggs, hatch into babies, and eventually grow into adults. As adults, unicorns are amazing farmers able to grow and craft whatever they need to grow the Multiverse. Additionally, Unicorns possess a unique set of skills that are determined by their genes, making them adept at battle loops such as jousting and racing.
It is necessary to breed the original 10,000 unicorns for the Unicorn NFT ecosystem to thrive and grow. The Unicorn Milk, Rainbow Tokens, and Normal Berries can be used to breed Unicorns. When breeding two adult Unicorns, each parent Unicorn's genes are passed down to the newly-created Unicorn egg NFT. Unicorns can breed up to eight times.
Evolution gives players the chance to upgrade each of the 18 genes of their unicorns. Unicorns will always keep their unique visual traits, but Evolution gives them the option to evolve from their baby form whenever they like. Since only adults can breed, we anticipate most players will evolve their unicorns into adults.
There are six primary classes, showcased below, with three hidden classes, namely Rainbow, Star, and OmNom.
Moon: These Unicorns are quintessential space explorers, and their stunning appearance reflects that.
Crystal: Although all Unicorns are carefree and cheerful, Crystals have a more calm, placid demeanor that belies their strength and endurance
Heart: Whenever someone's in trouble, you can bet a Heart Unicorn is on the way to help them
Cloud: When Clouds get worked up into a powerful storm, they become the worst enemies, laughing one moment and aggressive the next
Candy: sweet, clever, and usually quite tough.
Flower: Flowers are known for their lightning quickness and keen minds.
Land NFTs
Crypto Unicorns Land NFTs are entirely customizable and has a variety of productive buildings, including a stable, nursery, workshop, gathering cart, and farm plot. Players benefit from upgrading their land, which increases its productivity. Unicorns are extremely helpful creatures (as long as you ask nicely!) and love to help out around the farm.
Farm Slots: allows players to plant seeds to grow berries that can be used in breeding, evolution, and crafting.
Gathering Cart: Players can send Unicorns on gathering quests and collect rewards when they return.
Workshop: Players can assign Unicorns to craft items from a list of potential recipes in the workshop.
Nursery: Players can breed, hatch, and evolve unicorns in the nursery.
Stables: Upgrade the stable to increase the number of Unicorns that can be assigned to work on the Land.
How to Get Started
To begin your Crypto Unicorns journey, you will first need to generate a crypto wallet. A crypto wallet manages and authenticates digital assets, such as Unicorns, Lands, and other tokens. Players are recommended to purchase both a Unicorn and Land. Players can purchase these NFTs with wETH via the game's official Opensea Pages for the Unicorns and the Land NFTs respectively. Once you've set up your wallet and obtained your unicorns, you can enjoy playing Crypto Unicorns. directly through your browser here.