Overview
Bit Hotel is a gaming metaverse that combines social interaction with the opportunity to earn NFTs. Players, or "hotel guests," can compete, collect unique digital assets, make friends, and increase the value of their assets both socially and financially. These assets, known as NFTs, include rooms, characters, furniture, and other in-game items, each with their own special perks. The rarity of these NFTs can vary, and they can be traded both on the open market and within the game.
In Bit Hotel, guests can interact with other players, participate in various mini-games and climb the global leaderboard to earn in-game assets. The rooms in the game can be used to host gatherings, as well as to host mini-games and role-playing activities. Additionally, players can engage in other communal activities the studio organizes for the community or even user-created events. Bit Hotel offers players a unique experience that combines authenticity, anonymity, and nostalgia for the 8-bit era of gaming.
Room NFTs
In Bit Hotel, rooms serve as central bases in the metaverse. With over 13 different room designs available at various price points, there's a room for every type of guest. Guests should view their rooms as digital social hubs, a place to showcase their furniture, and as a status symbol. As an owner of a Bit Hotel NFT room, you own a piece of the metaverse and can use it for various purposes such as creating NFT galleries, hosting auctions, setting up a casino or arcade, hosting events, or even creating a clubhouse.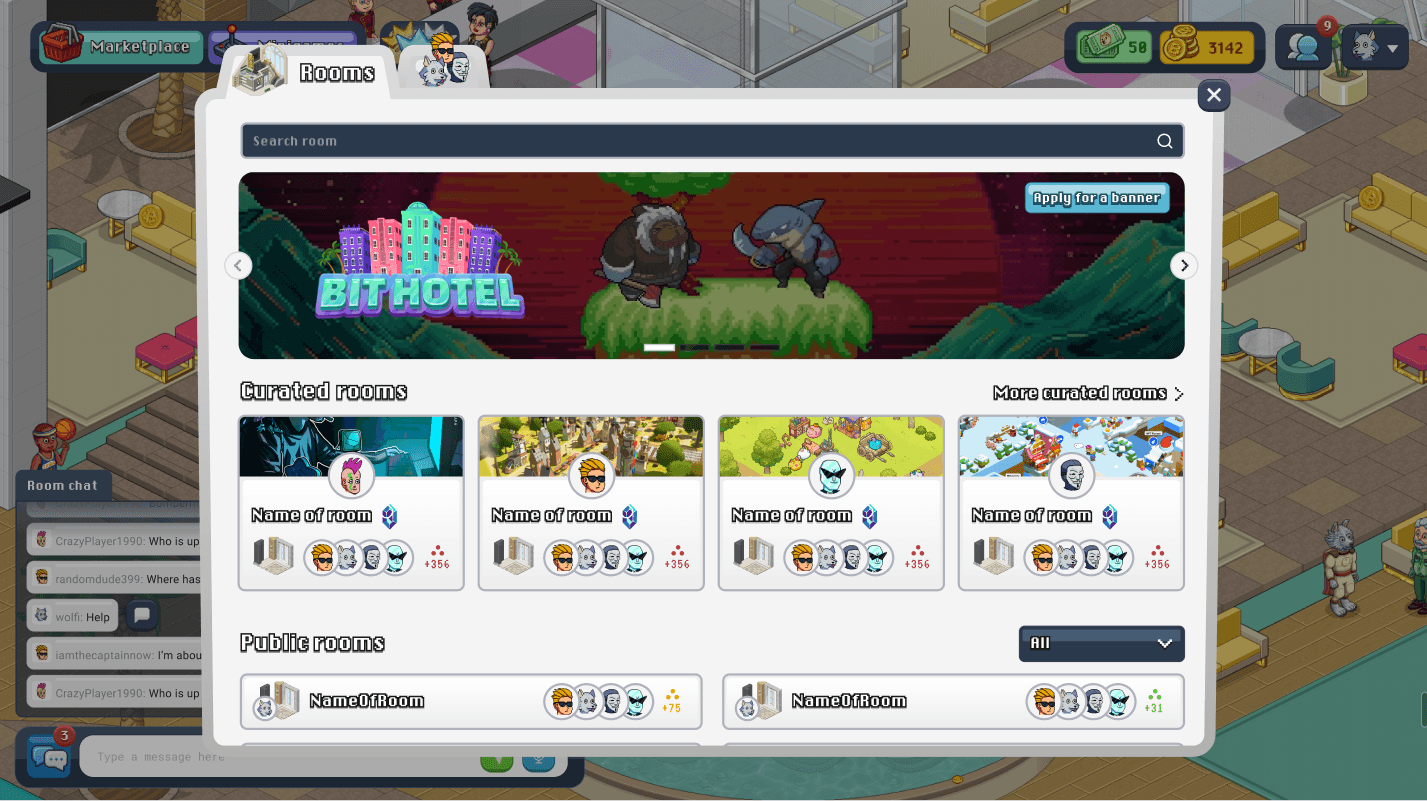 On top of that, you can also become a landlord and rent or sublet your room using Bit Hotel's in-game on-chain renting and loaning technology, allowing others to use your room to progress and rise in the Bit Hotel. In the Bit Hotel ecosystem, rooms vary in four key areas: design, rarity, tile amount, and the number of guests that can be invited. Different designs cater to different preferences, allowing guests to feel at home in their room. Some guests prefer rustic wooden tiles, while others prefer classic marble tiles. Some prefer big windows and a chandelier, while others want a luxurious jacuzzi to be the centerpiece of their room.
Room designs can be updated after purchase by switching out different floor tiles, walls, and furniture pieces, so guests don't have to be limited by one small detail in their room. Rooms with more tiles allow for bigger events, more guests, larger NFT auctions, and more massive gaming tournaments. Additionally, larger rooms also allow for more overnight guests. The number of guests that can be invited at once increases in higher rarity rooms, although exact numbers have yet to be disclosed.
Guests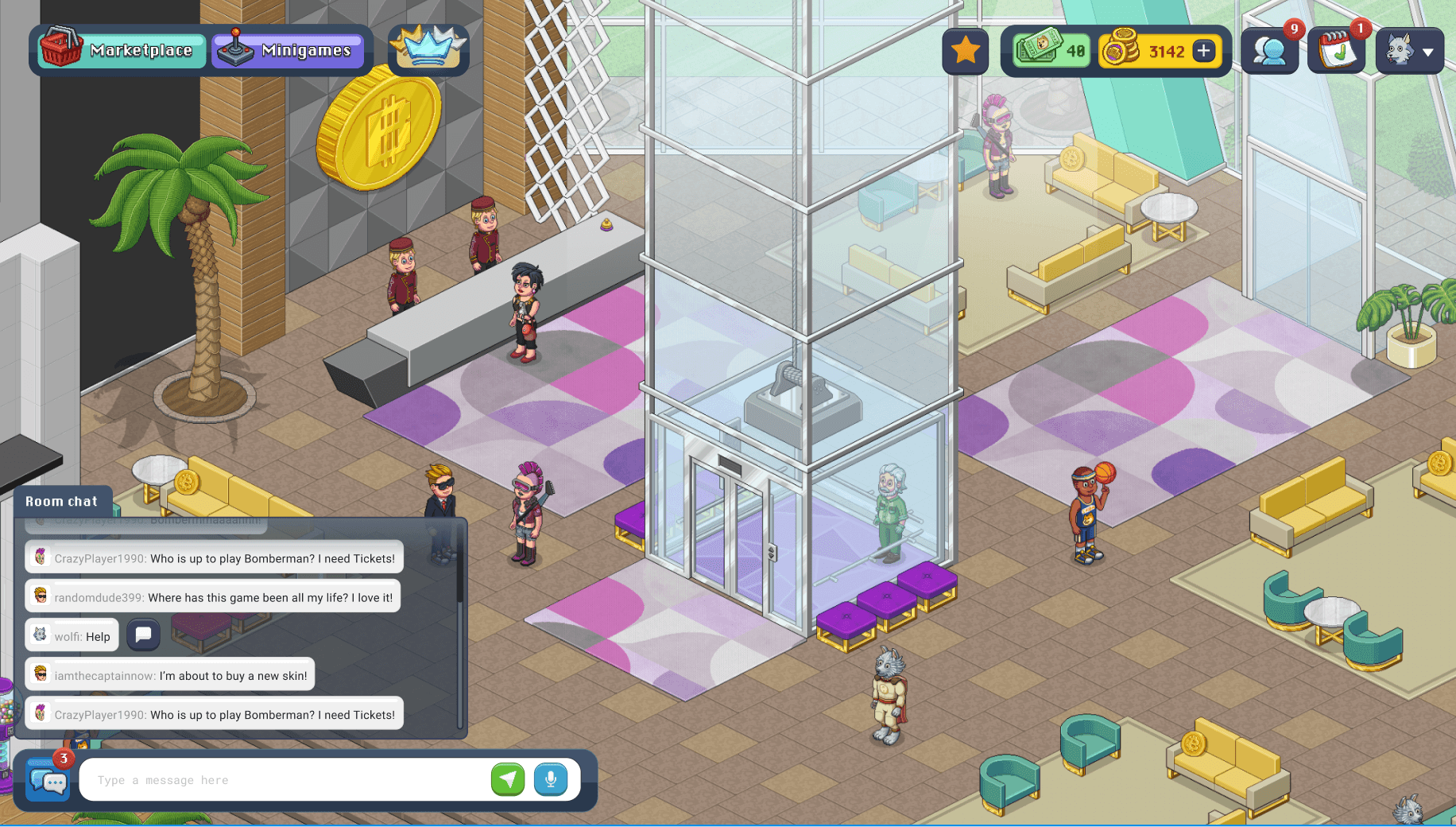 In Bit Hotel, the hotel guest skins or characters are an essential part of the game. They are designed to embody the social and cooperative aspect of gaming that makes it so enjoyable and to give players the opportunity to differentiate themselves from their friends. Giving players an in-game identity is a key value of the game. The goal is for Bit Hotel to be a game that players will play for years and continue to play due to the people they meet both in-game and in the wider community.
Players create and collect NFT items by redeeming in-game tokens won by playing mini-games. This makes mini-games the primary play-to-earn mechanism in the game. Players who own a specific hotel guest NFT will have access to perks that make playing these mini-games more attractive. Additionally, redeeming in-game tokens for NFTs at the shop will earn players an earnings multiplier. Furthermore, owning a Hotel Guest skin will also allow players to participate in exclusive in-game events and modes, both player-hosted and official ones.
Bit Hotel features six rarities of guests, with the main differences between them being the number of NFTs minted and the perks in-game.
Common Rarity: 300-500 minted, extra 1-3% of in-game tokens earned per game
Uncommon Rarity: 100-200 minted, extra 3-6% of in-game tokens earned per game
Rare Rarity: 50-60 minted, extra 7-10% of in-game tokens earned per game
Super Rare Rarity: 20-40 minted, extra 11-15% of in-game tokens earned per game
Epic Rarity: extra 16-20% of in-game tokens earned per game
Legendary Rarity: Perks are only known to the lucky few who own them.
Moreover, players can enjoy a variety of mini-games, with ranking and leaderboard systems that hold season-exclusive competitions with NFT or token prizes for top players. Some of these will be open to all players, while others will be limited to players within the same tier (e.g. "Bronze"). This serves as an additional play-to-earn mechanism and allows Bit Hotel to distribute rewards to players who actively contribute to the growth of the game.
How to Get Started
Bit Hotel is currently in its Open Beta phase that you can access through registering and creating an account then entering your beta access key. If you don't have a beta access key, it is relatively easy to get one directly from the team by being active on any of the game's social media platforms or within their community. Codes are being handed out regularly for the game's community members.
The game receives periodic updates as well to keep the content fresh and exciting every now and then for players to find new activities and events to enjoy every time they jump on.