Overview
Big Time is a multiplayer action RPG where you team up with friends to adventure across time and space. Explore ancient mysteries and futuristic civilizations as you battle your way through history.
Every dungeon is procedurally generated, offering players precious NFT and non-NFT loot along their way while offering a special experience every time you boot up the game. Collect in-game items or hang out with friends with limitless environments and adventures that give you infinite replayability.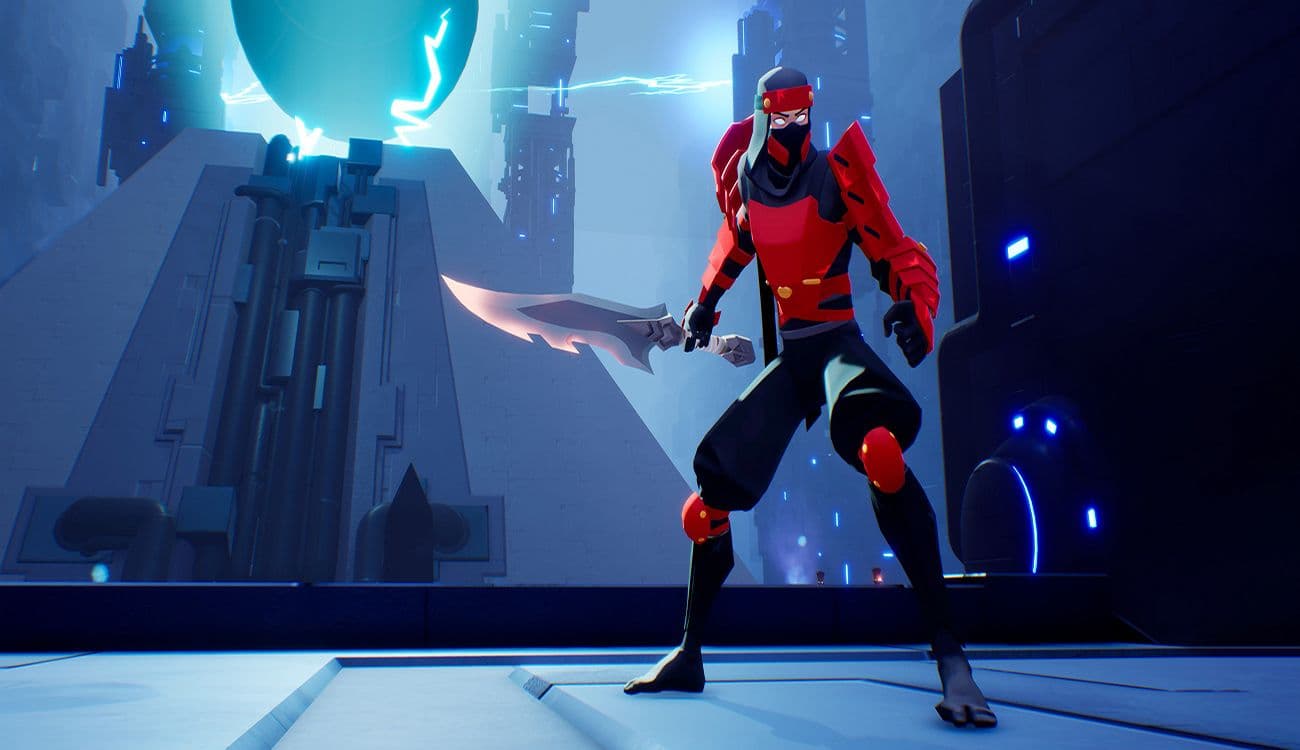 You can queue up with a maximum of 6 players in your party, with different play styles to conquer dungeons. Each hosting various monsters lurking around it, with objectives you need to complete before facing the dungeon's boss fight on your quest to gather resources and find rare collectable NFT items.
These objectives can vary from disarming bombs and collecting flowers to slaying certain types of enemies, which often drop clothing and armor items inspired by different time periods. 
Players will first have to choose a starting class. Each player's experience differs based on the character class selected. Pocketwatches allow players to switch between different classes. Pocketwatches for each class are used to save players' progress as they level up.
Classes
En route to conquering dungeons and slaying monsters, you'll come across challenges and tasks that require specific skill sets to be victorious and succeed - here's a quick breakdown of each of these character classes: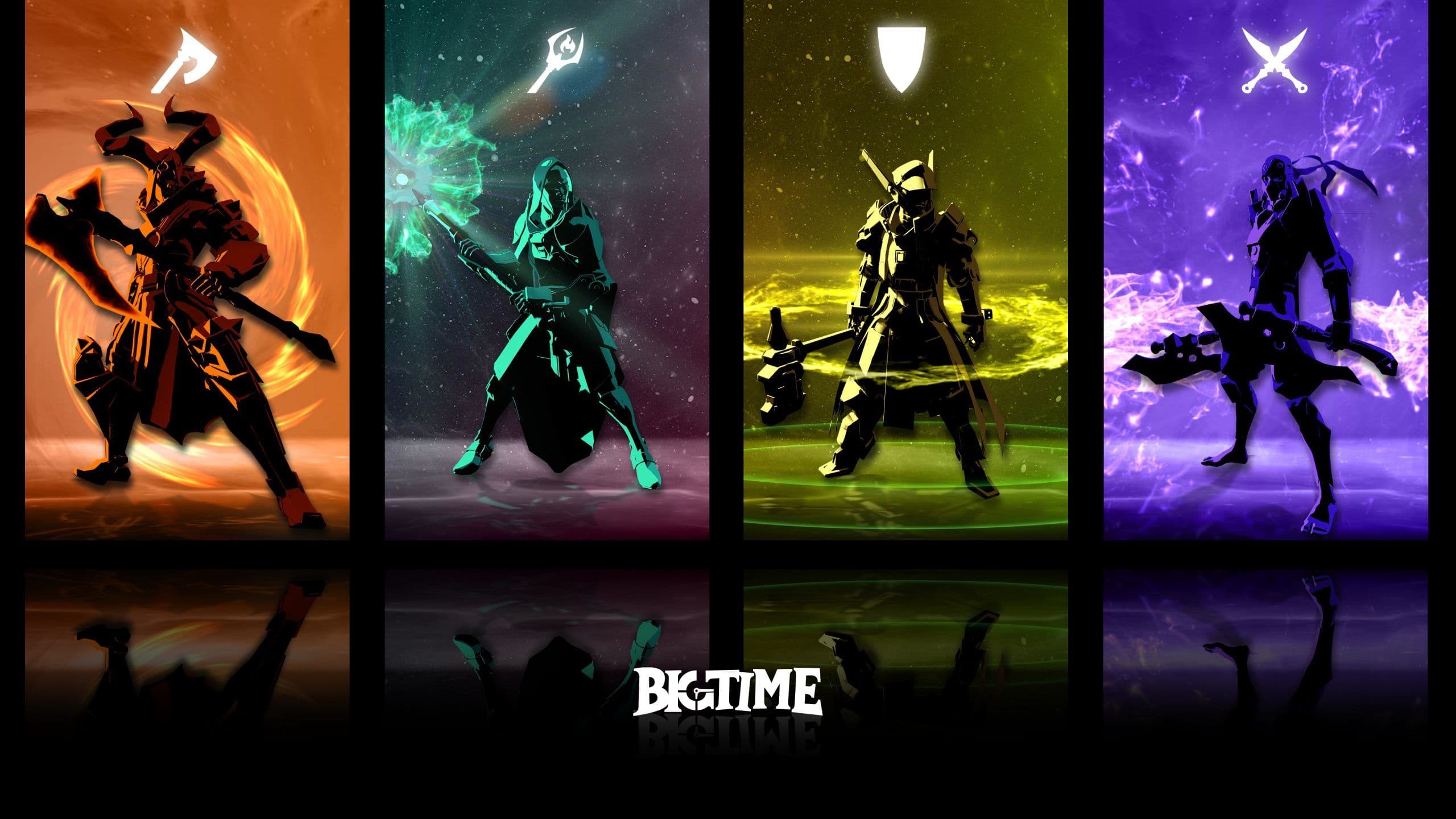 Time Warrior: The Time Warrior is an aggressive, front-line fighter that wields melee weapons to deliver close-up carnage.
Chronomancer: a powerful ranged damage class that uses magic to decimate its foes.
Quantum Fixer: a masterful support class. Heal your allies, and bring misery to your enemies.
Shadowblade: an agile and stealthy melee fighter, dealing death to those who stand in the way.
Enemies
Defeating enemies across dungeons can provide you with collectable items and token rewards, with tougher boss fights typically stated as the secret behind the rare drops.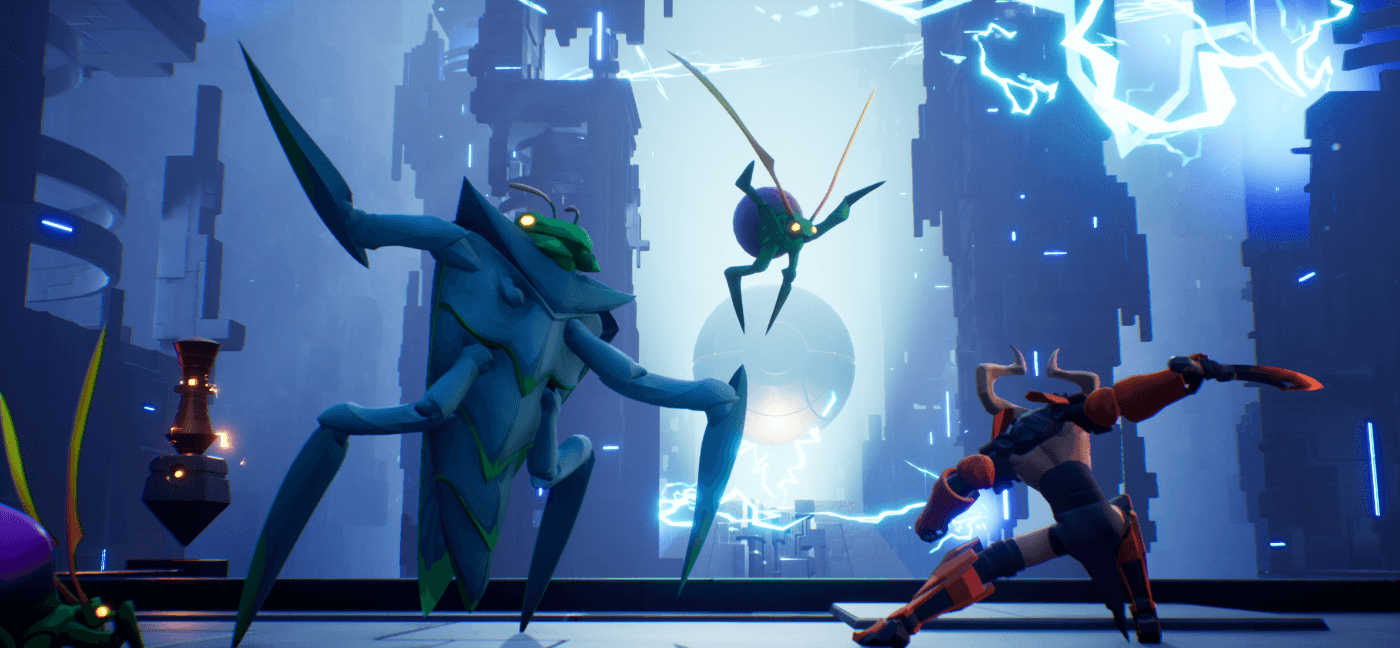 The game hosts a wide range of enemies from across time and various realms with large insects, robots and even a T-Rex standing in your way, each requiring a different approach to defeat and progress.
The studio is also constantly teasing and announcing new enemies and bosses to defeat, therefore the Big Time world promises endless replayability and challenging quests as the game development continues.
Game Economy
Players will play and earn tokens as they battle across history, defeating enemies and undertaking dangerous quests. In addition to their market value, Big Time tokens are set to have extensive in-game utility as well. Tokens can be used to purchase ultra-rare and exclusive cosmetic NFTs, speed up crafting times, and repair damaged and depleted items.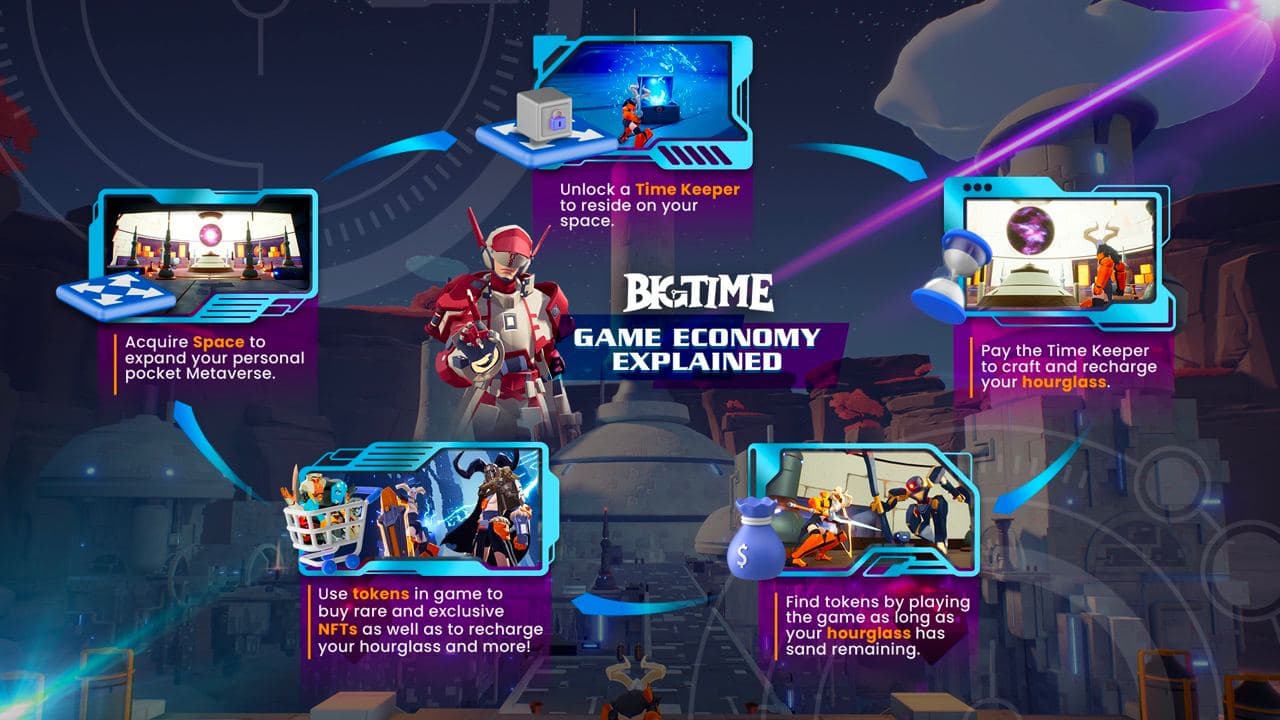 The game's economic model is designed to be identical to that of traditional games, but with tokens as the in-game currency.
For players, there are two economic strategies to choose:
Profit from in-game tokens by selling them on the marketplace, or profit from selling NFT items to buyers with prices varying on the level and rarity of the items in question.
Time & SPACE
NFT items in Big Time will be for cosmetic purposes only; they will not affect gameplay, as the team is primarily focused on maintaining game balance and does not want "pay-to-win" scenarios to damage the gaming experience and quality of their players. 
Time Machines and SPACE are other core gameplay mechanics in Big Time. Players will earn their first Time Machine in the early stages of the game, and from that point onwards, you can expand it and personalize it as you wish.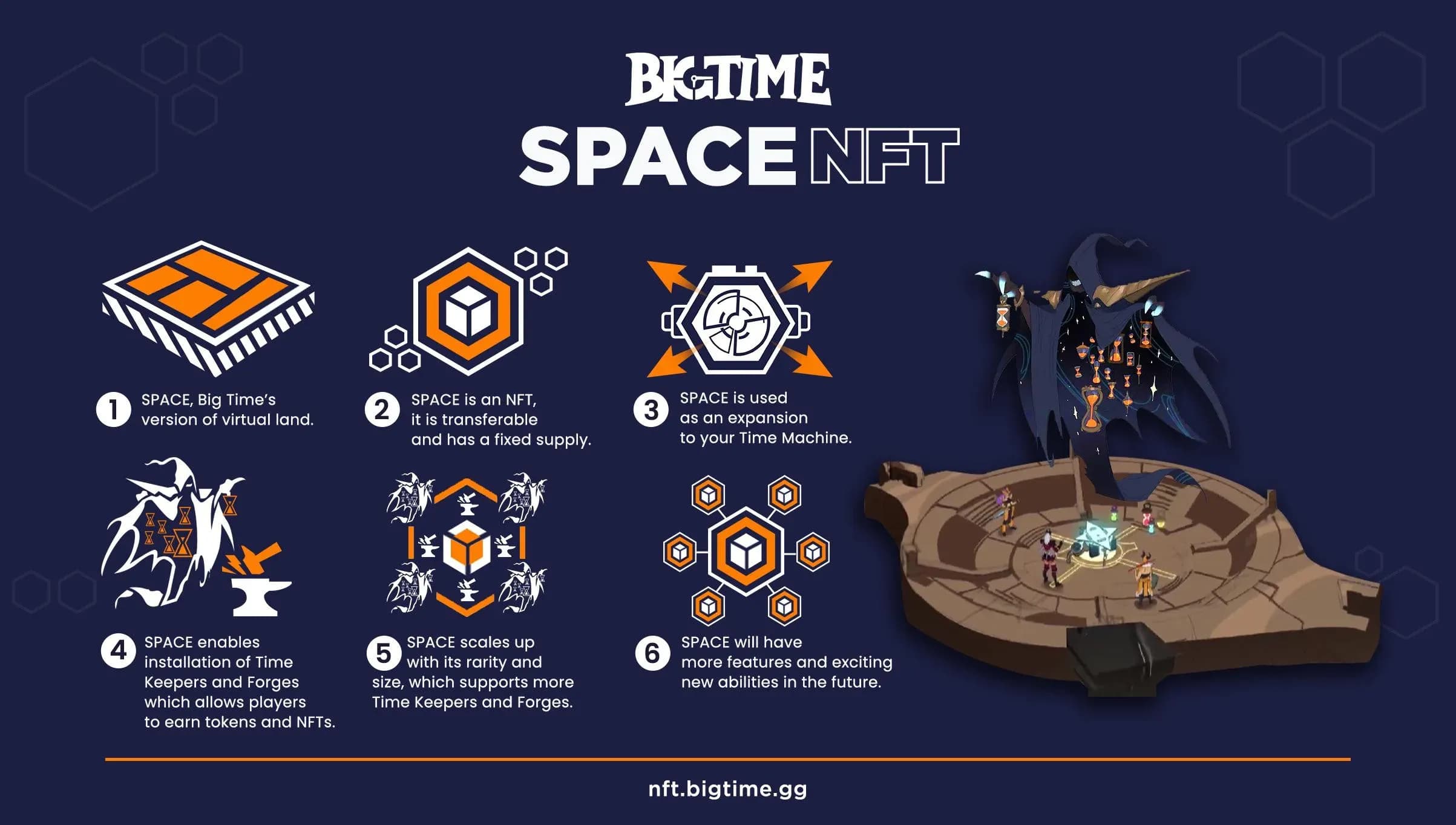 The question here is, how do I upgrade and expand my Time Machine? Well, the limited-edition SPACE NFTs come into play.
Players will receive their first Time Machine for free in the early stages of the game. This can be considered a Personal Metaverse that only the player and their friends can access. 
In the Time Machines, players can unlock unique features and utilities like Time Wardens, Forges, Armories, and Hourglasses by using a SPACE NFT.
These features are installed on a player's SPACE NFT allowing them to produce in-game items that can be collected, traded, or sold on the marketplace to other players.
There are 5 rarity tiers Rare, Epic, Legendary, Mythic, Exalted and 3 sizes Small, Medium, Large.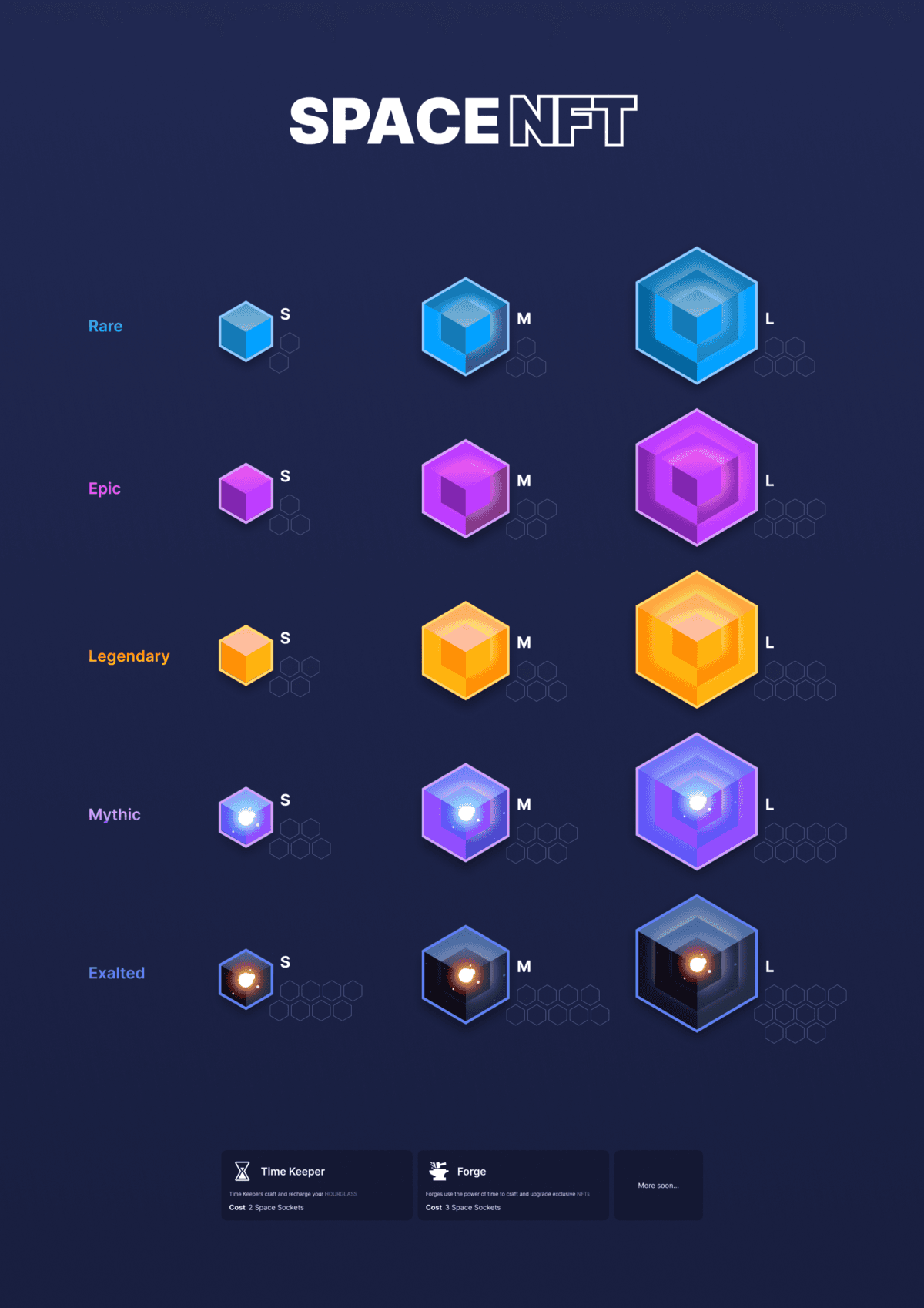 The larger and rarer the SPACE, the greater the production capabilities in-game "sockets" and a better ratio for creating nice items, with SPACE capped at 600,000 total fixed supply. Players can purchase SPACE on the Big Time marketplace or OpenSea.
How to play Big Time? 
The Ruby phase was the last pass-based phase - with SPACE NFT holders currently able to get access to the game. An invite-only closed beta will soon follow prior to the final official public launch expected in Q1 of 2023. 
Minimum System Specifications
GeForce GTX 1060 or better / Radeon Rx 580 or better
8GB RAM
DirectX 11 or above
Intel core i5 4430/ AMD FX 6300
10GB available drive space