To describe Ultra as a comprehensive web3 gaming ecosystem is an understatement, and the team has now revealed their Uniq NFT marketplace is scheduled for an August 29th public launch. The Uniq Marketplace closed beta has been ongoing recently, with only 1,800 invited users, who gave Ultra valuable feedback on the user experience as well as the interface. All of which were implemented, and now it is ready for the public to get their hands on it.
The Uniq marketplace will include several collections at its launch, mostly from Ultra, NFT artists, partners, and passionate Ultra community members. The team promises to not slow down from there, as it will be frequently updated with more collections and rewarding active users with drops and exclusive content. The NFT marketplace will be accessed through the main Ultra launcher, so make sure to download it and create an account.
As we all know, launching a product is usually just the first step to proving its success. With the experience present in the Ultra team, they are very well aware of that. That's why the post-launch roadmap for the Uniq marketplace has been already laid out in detail as seen below. This includes variants, game tokenization, Uniq avatars, code redemptions, and more.
We will give the spotlight to variants this time, even though each new feature planned is as equally important as the next one. Variants will greatly benefit artists and game creators in reducing their development time as it essentially provides them with "a flexible variant system for Uniqs that gives creators the opportunity to produce variations of a Uniq collection without having to create multiple Uniq factories." Creators will be able to produce Uniq NFTs, each with its own custom metadata, all coming from the same token factory.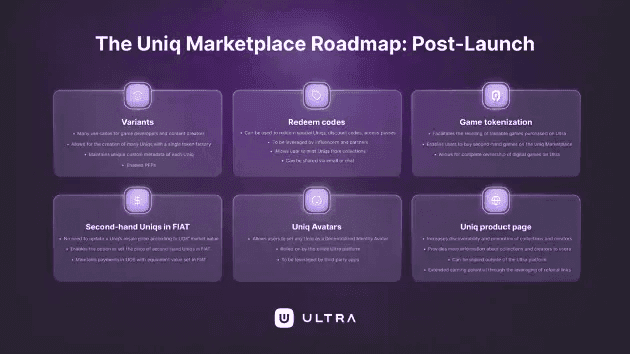 Are you excited to give the Uniq Marketplace a tour once it is live? What are you most excited about in Uniq and Ultra's roadmap? Let us know your thoughts in the comments down below.
Join the PGG family today!