Our highly anticipated GAM3 Awards, a pivotal occasion within the realm of web3 gaming, is poised to make its grand comeback this December 2023. We are thrilled to introduce our diverse and illustrious jury lineup, which combines familiar faces from 2022 with fresh voices representing diverse sectors of web3 gaming. The new additions are particularly noteworthy, featuring key figures from web3 gaming venture capital firms, blockchain and ecosystem experts, infrastructure partners, content creators, in addition to well-established gaming leaders, and tech industry giants such as Amazon and Google.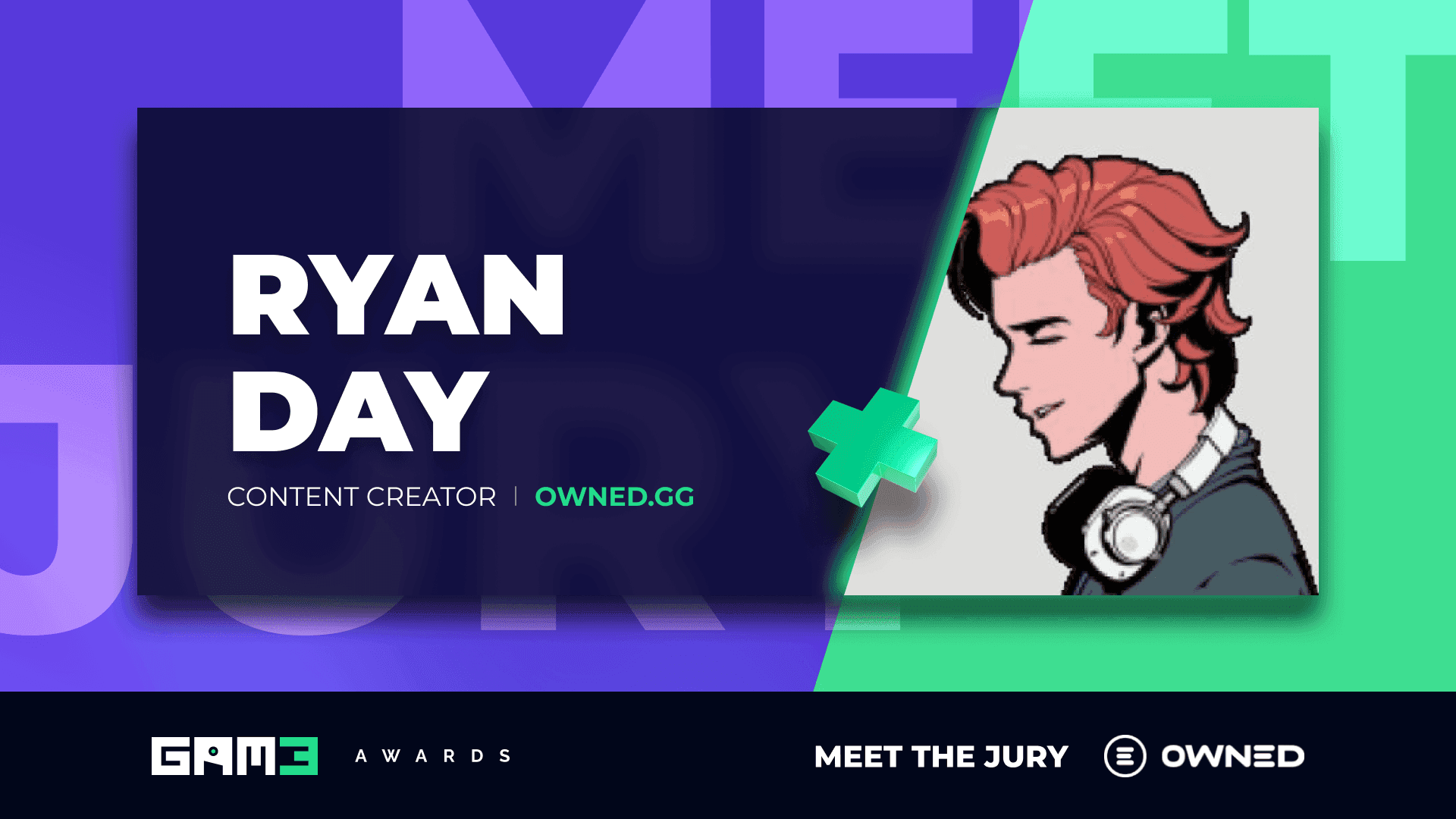 We are proud to introduce one of our jury members Ryan Day, a well known web3 gaming Content Creator and member of Owned.gg.
1. What is the most enjoyable part of your role?
"It's getting to work with some of the most amazing brands and studios that I am still the biggest fanboy of. These organizations are looking to blockchain gaming as the next frontier in how games and gamers work more closely together. And now I get to help bring to market games from studios that tugged on my heart strings, had me staying up till 5 am for 'One more game,' or helped me find the best friends I have today is game changing."
2. How do you see the progress made in web3 gaming since last year?
"Both a lot has changed and a lot is still the same from when we were judging last year. I think many high caliber games are closer to launch and the broader Web3 community sees gaming as an ideal onboarding vector. But there is still the broad based appeal that we're lacking in. The gamer experience is still a bit clunky. Our favorite content creators aren't talking about these games. We're still waiting for the stigma of NFTs to recede. But it's amazing to see all the projects trying to change that this year."
3. What is the most valuable addition web3 brings into gaming, from your perspective, if any?
"It gives the ability to reward and encourage your games' biggest fans. For some - they like the collecting aspect. Others enjoy the flex. I'm sure many enjoy the financial side right now. But it's a way to truly understand who your best customers are, what they're thinking, and how you can retain and reward them in new and fun ways that were available before. I can't wait to see what fun ways games and gamers work more closely together to build amazing communities."
4. What is your outlook on 2024 and beyond for web3 gaming?
"With the amount of titles coming out that rival some of the biggest games out there getting supported by some of the best names in the business - the future is bright. I think once someone owns their variant in Deadrop and gets an extraction worth thousands of dollars, people will start to get it. When a game other than CS has people charting markets for skins, more folks will want to come in. When we have kids clamoring to get their parents to set up a wallet because they're under 18 - that's when we'll know we're onto something."
The return of our GAM3 Awards in 2023 promises to be a celebration of the web3 gaming industry's growth and innovation. With industry figures like Ryan Day on the jury, the event is set to recognize excellence in the ever-evolving world of web3 gaming.