Our GAM3 Awards, a standout event in web3 gaming, is set for a grand return this December 2023. Excitingly, our panel of judges includes familiar figures from 2022 and new voices spanning various corners of web3 gaming. Among the noteworthy additions are experts from web3 gaming venture capital firms, blockchain and ecosystem specialists, infrastructure partners, and content creators. We're also privileged to have esteemed leaders from the gaming realm and tech giants like Amazon and Google joining our distinguished jury lineup.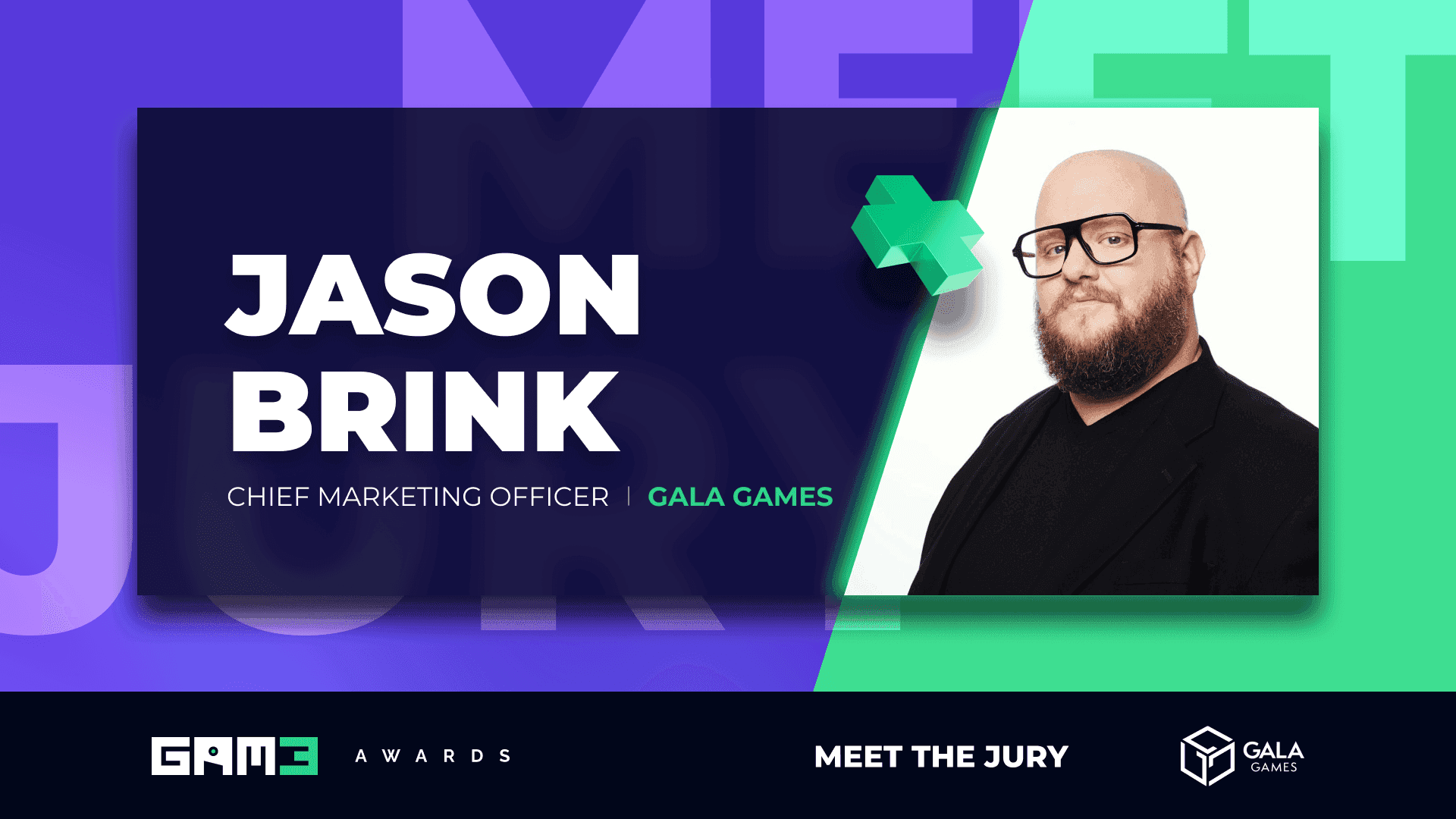 We are proud to introduce one of our jury members Jason Brink. Jason has been actively engaged in the cryptocurrency sector since 2013, contributing his expertise as a blockchain theorist and advocate. His notable achievements include winning the 2014 Bill and Melinda Gates Foundation / Global Development Network Prize for developing "AidDollar," a blockchain concept aimed at improving the delivery of foreign aid. Widely recognized in cryptocurrency circles, Brink is a familiar face on discussion panels, where he shares his knowledge on using blockchain for systemic improvements across various industries.
As the President of Blockchain at Gala, he manages the strategic blockchain direction and foundational philosophy of the company's projects, including Gala Games, Gala Film, and Gala Music, with a particular focus on advancing decentralization through GalaChain. 
1. What is the most enjoyable part of your role?  
"Hands down, the most enjoyable part of my role is problem solving. Every day, we confront challenges at Gala that most people can only dream of being able to work on solving. Every day brings a new and exciting challenge, and while they aren't always fun, they always teach me something."
2. How do you see the progress made in web3 gaming since last year? 
"There has been tremendous progress in web3 in the last year. The bear market, while it is very much not fun for people, is also a HUGE filter that weeds out the projects that are willing and able to build as real businesses from the hobbyist projects. This is painful in the short term, but will be a long-term benefit to the whole industry as the projects who keep building will stand out."
3. What is the most valuable addition web3 brings into gaming, from your perspective, if any?
"The value of ownership cannot possibly be overstated. In so much of the digital world today, we don't OWN anything. Blockchain, digital assets, and web3 change that by giving that ownership to the player, listener, viewer, or ecosystem participant. This is of MASSIVE importance."
4. What is your outlook on 2024 and beyond for web3 gaming?
"Personally, I think 2024 is going to be the year for web3 gaming when it finally breaks into the mainstream. There is such huge potential in this space, and it makes me incredibly happy to be building here at Gala to make it a reality."
The return of our GAM3 Awards in 2023 promises to be a celebration of the web3 gaming industry's growth and innovation. With industry figures like Jason Brink on the jury, the event is set to recognize excellence in the ever-evolving world of web3 gaming.