Our GAM3 Awards, a standout event in web3 gaming, is set for a grand return this December 2023. Excitingly, our panel of judges includes familiar figures from 2022 and new voices spanning various corners of web3 gaming. Among the noteworthy additions are experts from web3 gaming venture capital firms, blockchain and ecosystem specialists, infrastructure partners, and content creators. We're also privileged to have esteemed leaders from the gaming realm and tech giants like Amazon and Google joining our distinguished jury lineup.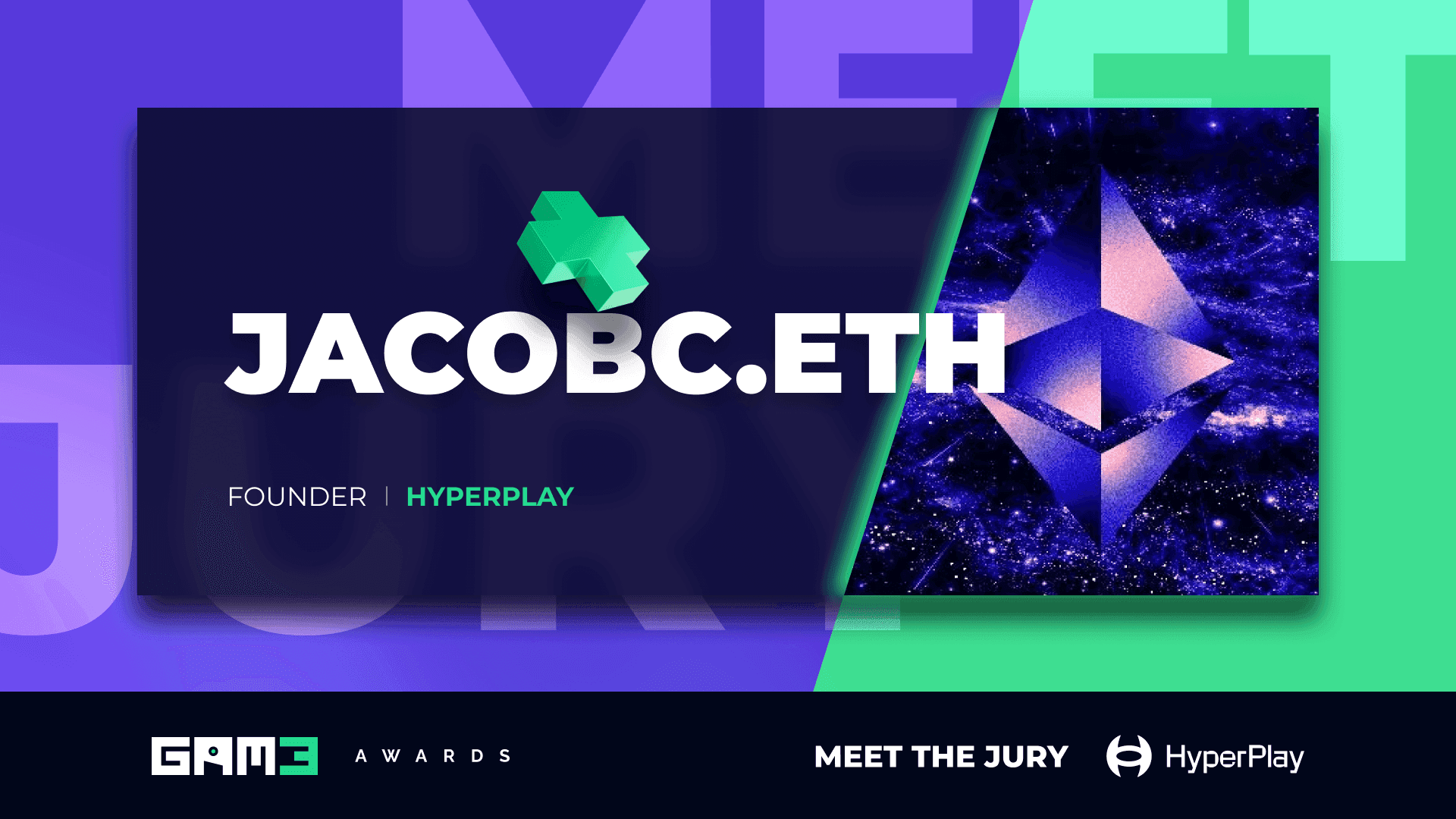 We are proud to introduce one of our jury members Jacob, Founder of HyperPlay, a web3-native game launcher from the future, allowing players to carry their wallet, tokens, NFTs, and achievements across every game. HyperPlay is a product initiated by the Game DAO. Jacob is also a Strategic Advisor for MetaMask, Game7, and Mantle. In his prior role at Consensys, Jacob led product operations for MetaMask, the leading Ethereum wallet and web3 browser. Jacob developed growth and monetization strategies for MetaMask, and for the overall ConsenSys Software organization.
In Jacob's career, he has led teams from early stages through periods of hyper growth, fund-raising, acquisitions, and rapid innovation. As an innovator and technologist who believes in expert generalism, Jacob's extensive experience entails web applications and software engineering, gaming, the Lean Startup Methodology, Ethereum protocol development, wallets and dapps, scrum, kanban, story-driven development, user story mapping, web3 growth strategies, business operations, recruiting, and crypto-economic game theory.
1. What is the most enjoyable part of your role? 
"I love getting to help game developers build their dream game worlds, and improving the user experience around web3 in the process."
 2. How do you see the progress made in web3 gaming since last year?
"We're definitely seeing higher quality titles. I do have some concern that some of the game developer community is still under-utilizing the actual value propositions of web3. It is a pretty common thing in market cycles to see bear markets pivot to cynical models, only to later abandon these when the market recovers. I'm excited to help people build for the deeper value propositions that web3 can enable."
 3. What is the most valuable addition web3 brings into gaming, from your perspective, if any? 
"I believe the two largest value propositions of web3 gaming are under-appreciated. Many people think the value proposition is simply "true player ownership of assets" and certainly that is part of the story. But to me, the real value propositions are interoperability and permissionless extensibility.  We should be building for interoperable game worlds where the player can carry their wallet and assets between games, and allowing third parties to extend the functionality of our games or even build third-party games that share assets and smart contracts."
 4. What is your outlook on 2024 and beyond for web3 gaming? 
"We'll keep seeing all of the progress that's been made, continue compounding and even more exciting experiences are being built."
The return of our GAM3 Awards in 2023 promises to be a celebration of the web3 gaming industry's growth and innovation. With industry figures like Jacob on the jury, the event is set to recognize excellence in the ever-evolving world of web3 gaming.