Our GAM3 Awards, a standout event in web3 gaming, is set for a grand return this December 2023. Excitingly, our panel of judges includes familiar figures from 2022 and new voices spanning various corners of web3 gaming. Among the noteworthy additions are experts from web3 gaming venture capital firms, blockchain and ecosystem specialists, infrastructure partners, and content creators. We're also privileged to have esteemed leaders from the gaming realm and tech giants like Amazon and Google joining our distinguished jury lineup.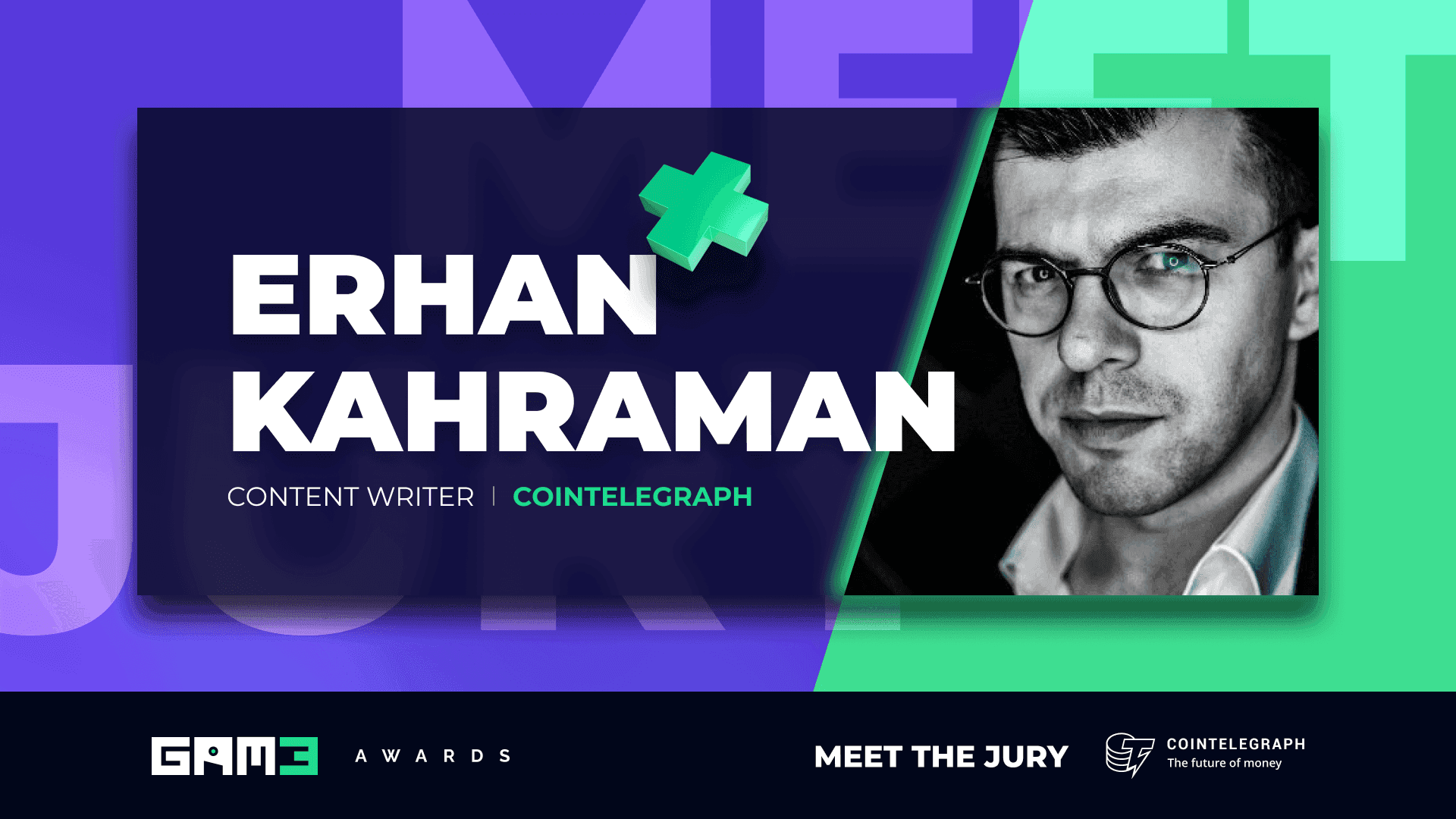 We are proud to introduce one of our jury members Erhan Kahraman. Erhan is a writer who covers blockchain, web3 and gaming. He prepares the Web3 Gamer column for the Cointelegraph Magazine. His previous work can be seen on Cointelegraph, Blockchain Turkey Platform and Daily Sabah.
1. What is the most enjoyable part of your role?
"I get to play cool games every once in a while and participate in a fast-growing community. Web3 gaming has a diverse profile of "average gamer" across different genres and titles, and I witness traders becoming hardcore gamers, grinding for in-game stuff or leaderboards. 
Web3 gaming today feels exactly like how video games became mainstream during the early 2000s -when I was at the start of my career as a video game journalist- in terms of acceptance and overall progression. Experiencing the birth of a whole new ecosystem, the excitement and disappointment going hand in hand with thousands of young and talented players and developers, makes me feel in my twenties once again."
2. How do you see the progress made in web3 gaming since last year?
"2023 was the year of Web3 gaming parting ways with cryptocurrencies and embracing the fun side of gaming's inherent qualities. Thanks to a bear market, which felt like it took forever, gamers started looking beyond tokenomics and NFTs while embracing the core elements of what makes a video game successful."
3. What is the most valuable addition web3 brings into gaming, from your perspective, if any?
"Web3 brings the opportunity to take part in a newly emerging ecosystem. Many successful games have already established communities, ladders, and ranking systems that might seem intimidating for first-timers. Take Street Fighter 6 as an example —a significant chunk of its players are returning gamers who played previous titles for dozens of hours. Even relatively new titles like Genshin Impact have players coming from similarly-designed MMORPGs. 
Enter Web3, and all players are as clueless as the next person. It's a whole new, uncharted territory that players can only make sense of by banding together and forming a community. In short, Web3 introduced a much-needed fresh breath of air to an industry that was plagued by an endless series of the same few successful titles."
4. What is your outlook on 2024 and beyond for web3 gaming?
"Play-to-earn, while still important, will lose its status as a "must-have" for Web3 games, which will propel the whole ecosystem forward. If we want to see more players joining the Web3 ecosystem, we need to start prioritizing what those players have always been looking for. Gameplay, story, graphics and other in-game dynamics."
The return of our GAM3 Awards in 2023 promises to be a celebration of the web3 gaming industry's growth and innovation. With industry figures like Erhan Kahraman on the jury, the event is set to recognize excellence in the ever-evolving world of web3 gaming.