Short form content has been dominating across all social platforms in recent times, and FreshCut recognized that perfectly. The platform caters to short form gaming content for those looking for a quick dose of exciting clips from both prominent and up and coming streamers. Their recent announcement revealed the FreshCut Rumble campaign, pitting countless recognizable and lovable gaming characters against each other in a bracket format.
Kicking off the competition on August 30th and going on for the following 3 weeks from there, daily polls will be shared on our Discord, Twitter and Instagram for users to vote on their favorite characters. 64 characters will be seeded on a two-sided bracket format in a competition to crown the best video game character of all time purely through fan voting.
The FreshCut Rumble won't give the spotlight solely to the video game characters featured but the community is set to have some love thrown their way as well. The FreshCut Rumble Predictions will reward you with 200 $FCD for taking part in the voting, with a 20K $FCD prize pool shared between the top 10 predictors.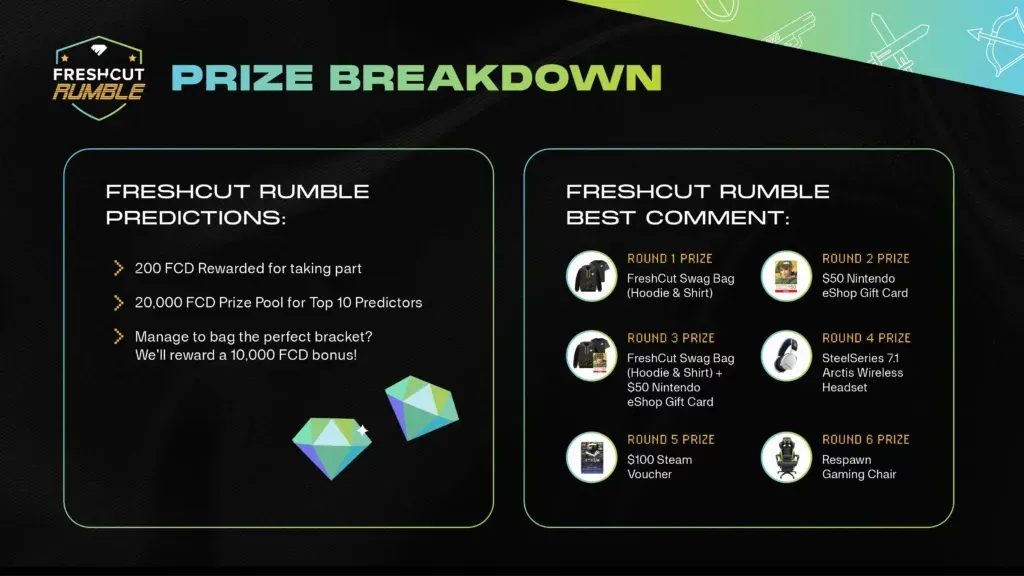 If you are a football fan, you know bracket predictions are where you can brag for years if you get it right from start to finish, which is why the FreshCut Rumble will offer a 10K $FCD bonus to the perfect bracket prediction. The best comment under every round's poll will get to win a gift as per the image shown above.
Who do you think will win the FreshCut Rumble? What is your favorite video game character of all time? Let us know your thoughts in the comments section down below.
Join the PGG family today!