Dear Gamers,
Today is an exciting day, and I wanted to take a moment to reflect on our journey and share some important updates with you.
Where It All Started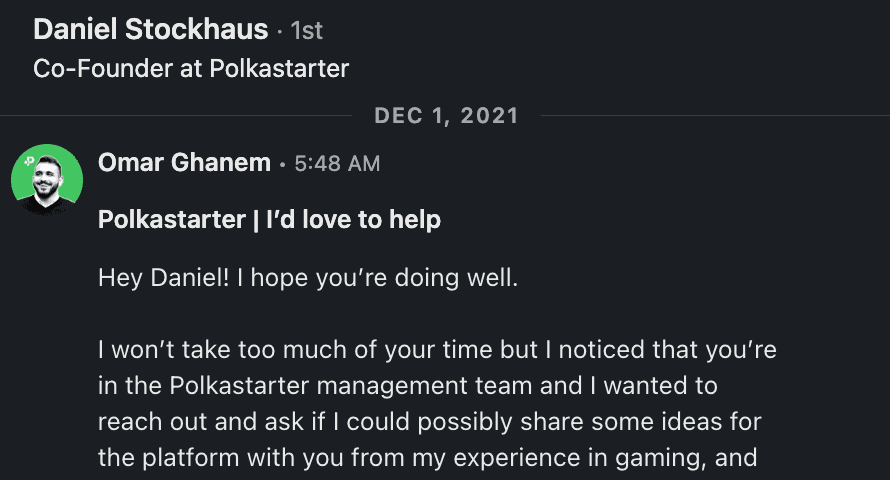 In late 2021, after a cold Linkedin DM, we embarked on a mission to redefine the web3 gaming landscape. The term play to earn was still being thrown around, while bankers and salesmen were pitching us ridiculous money-making schemes disguised as games. 
But from the very beginning, our goal was relatively clear - as gamers ourselves, we wanted to make web3 gaming a lot easier to get into. From removing barriers to entry, to educating gamers on blockchain technology and how it could really redefine gaming; things were not that simple.
Most web3 games around then were idle clickers, many were half baked, and the promising ones were merely pitch decks. We recognized the opportunity and focused on education & building a solid community of gamers that we could take with us along this journey. 
730 Days Later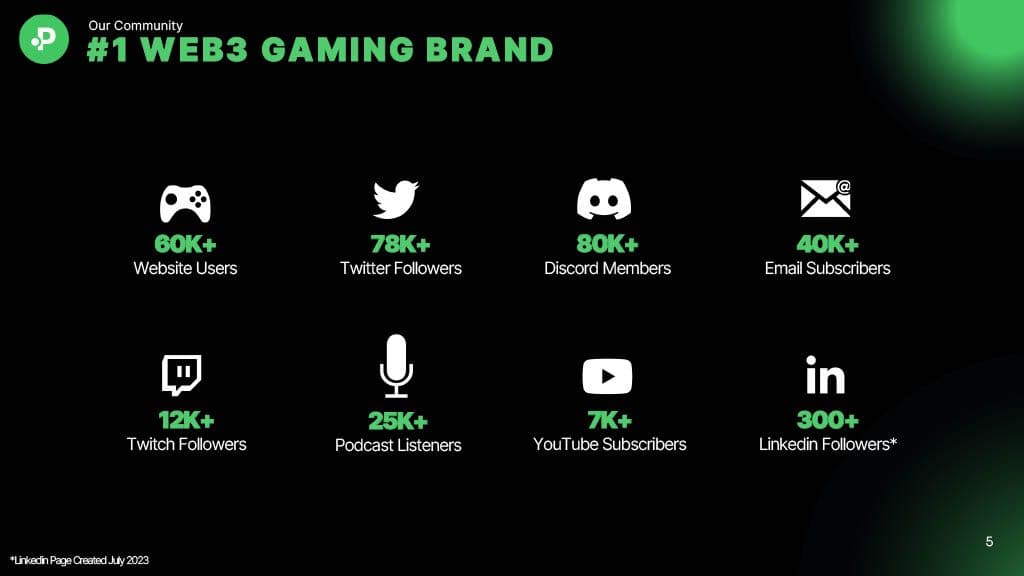 Fast forward two years, and as the space evolved with incredibly exciting games, so did we. As of September 2023, Polkastarter Gaming boasted over 80,000 gamers on Discord, our team streamed almost daily on Twitch since May 2022, and we've extended our reach from Twitter and YouTube and onto every podcast streaming platform you can think of - with so much more still planned.
Building a strong brand in the gaming niche is not easy. Building one in web3 gaming is even harder. But listening to your community and focusing on solving their problems & delighting them is the best chance you have. Which is exactly what we did. As a matter of fact, this entire platform you're reading this message on was literally born out of the frustration of community members that loved what we do, and were excited about what blockchain gaming had to offer, but were struggling to keep up with all our different channels & communication as well as the games' own announcements and releases. The industry was moving so fast that it was easy to get overwhelmed on what games to follow and which ones are even worth your time.
So we built them a new home. Which we've since dubbed "the home of web3 gaming".
Community > Product > Funding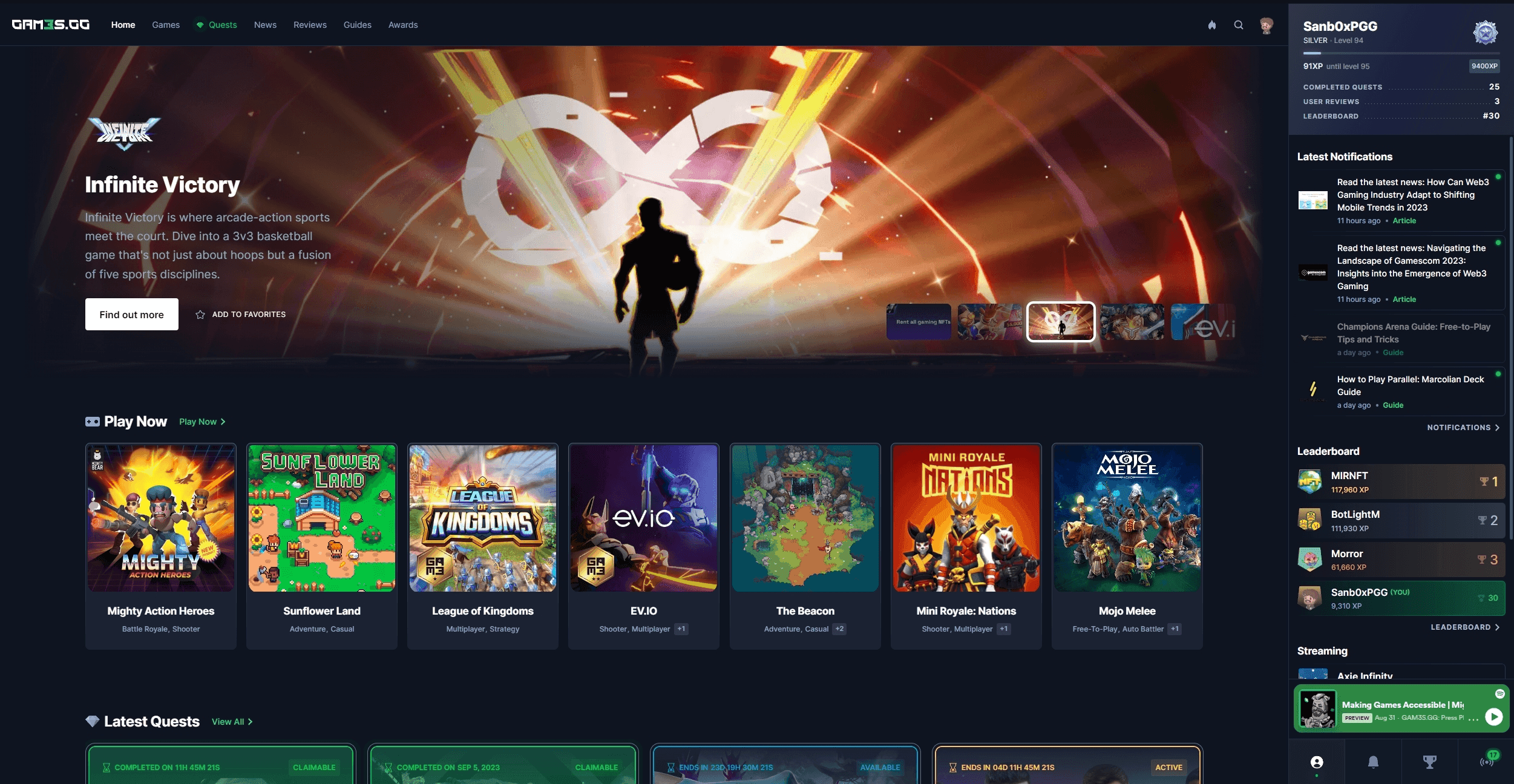 It took us 7 months from the day we started to really listen to our community and start working on a proof of concept that ended up becoming our platform's alpha version. 
It then took us another 7 months to push out a half-decent platform with 90% less bugs and essential community requested updates. November 2022, marked the launch of our platform and coincided with our GAM3 Awards, which served as a great stress-test for the platform to handle over 250,000 votes through the influx of gamers looking to support their favorite games, and an opportunity to leave a good first impression. 
Finally, it was 7 months later that we actually pursued funding to grow our platform & scale our operations further. Today, on the 7th of September, I'm thrilled to announce that we've secured $2 million in seed funding and have rebranded to GAM3S.GG to better align with our vision for the future of web3 gaming.
Why Rebrand?
Let's talk rebrand first. 
Polkastarter Gaming was born out of the support, confidence, and trust provided by our parent company, Polkastarter, a renowned name that has established itself as one of the most successful fundraising platforms in the blockchain space, launching over 100 projects and raising over $49 million. We were lucky enough to have the full support of the team, access to their resources, and a credible brand association that helped open up plenty of doors early on in our journey.
As time went by, our gaming brand began to grow, and we could finally stand on our own, slowly becoming an easily recognizable name in web3 gaming. However, the name was a mouthful and usually felt out of place for gamers and non-crypto native community members that weren't familiar with the web3 fundraising space. 
So we decided to change things up a bit.
We actually teased the concept of flipping the E in "games" for a 3 to subtly resemble web3 gaming last December in our GAM3 Awards. Given the reception for the event branding and overall community sentiment towards the concept, we decided to move forward with this concept as we strive to blur the boundaries between traditional gaming and web3 gaming. 
You can't hear "GAM3S.GG" and not think gaming; and once you spot the 3, it becomes quite obvious which space we operate in. As for the GG - you can consider that our promise to introduce you to a new "good game" every time you visit our platform.
Why Raise $2M?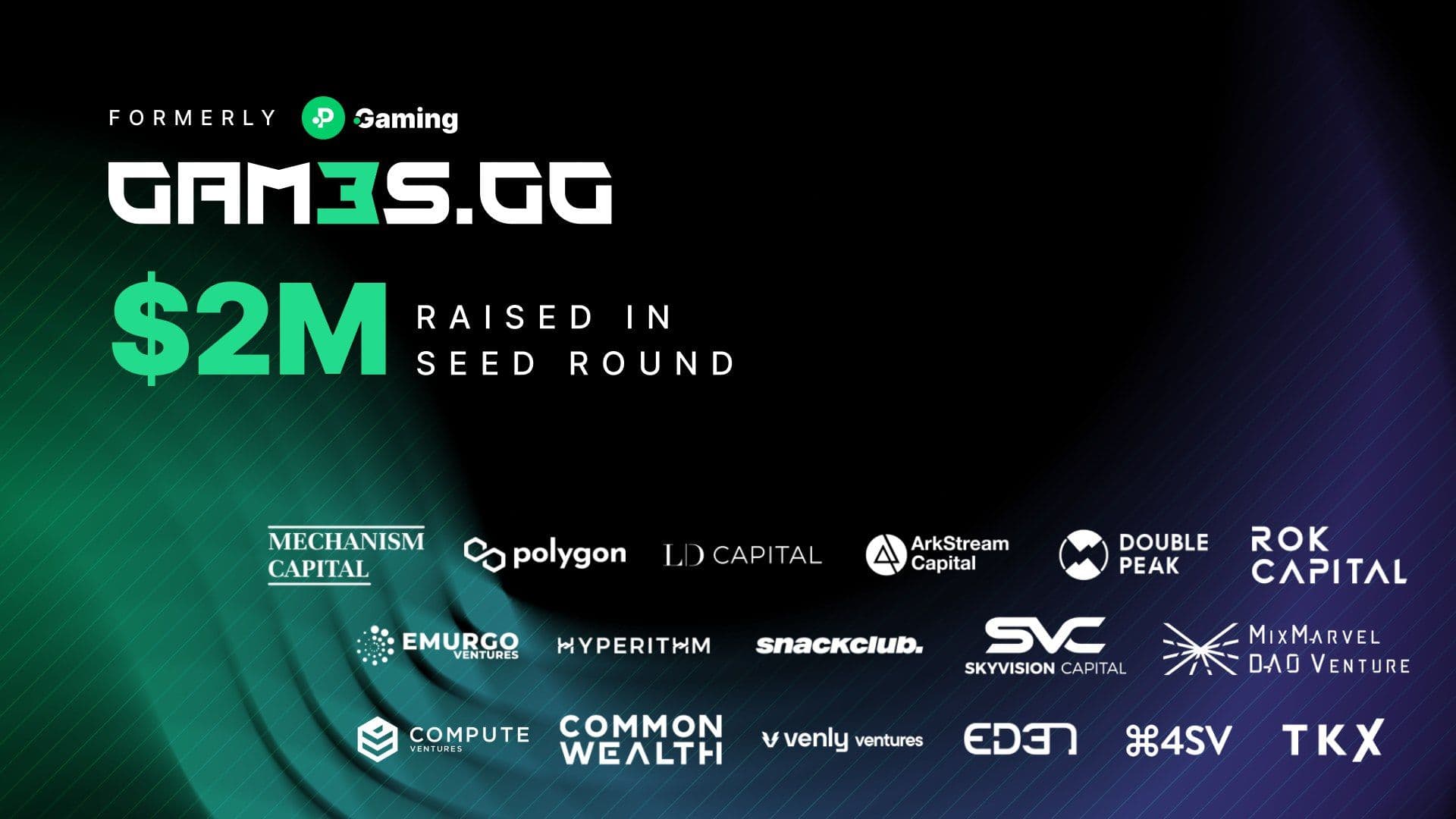 We hate slowing down. 
If you've been keeping up with our platform in the past few months; you'd realize how much we love shipping new features to constantly improve our users experience. In the past few months along we launched API-integrated game quests,  social logins, Steam progression tracking, leaderboards, streamer discovery, and playable games directly on the platform to name a few.
Our newly secured $2 million funding round is more than just a financial milestone; it's an essential next step that allows us to further speed up the development of several new and exciting features to continue growing and living up to the "home of web3 gaming" title.
We picked our investors the same way you'd pick your game duo partner - consciously focusing on value-add and a clear alignment in our shared vision for the future of web3 gaming. Luckily, and in spite of market conditions, we're thrilled to have Mechanism Capital, Polygon Ventures, Double Peak, ArkStream Capital, LD Capital, ROK Capital, Hyperithm, Snackclub, Emurgo Ventures, Eden Ventures, MixMarvel DAO Venture, 4SV, CommonWealth Capital, Venly Ventures, TKX Capital, SkyVision Capital, Compute Ventures and MarketAcross, as well as several angel investors join us on this next chapter of our journey.
Curious as to why they decided to invest in us? Here are just a few reasons:
"Finding the winning web3 gaming platform will require teams to take us past the feature sets we have been stuck with for years. We see that here with this squad." Ken, Partner at Mechanism Capital
"We've worked closely with the team over the past 18 months and investing in them isn't just about backing a platform; it's about championing a vision where web3 gaming is accessible, quality games rise above the noise, and where gamers have a trusted compass in this new frontier." Shreyansh Singh, Head of Investments at Polygon
"Past successes of GAM3S.GG make us firmly believe that it will become the pioneer in driving massive users into web3 games." Allen Su, Founding Partner at ArkStream Capital
"We are confident that GAM3S.GG will serve as the bridge that helps to nurture, grow, and unite the Web3 gaming community which in turn helps to propagate the growth of Web3." Lloyd Lee, CEO at Hyperithm
"GAM3S.GG's innovative approach to the web3 gaming ecosystem, prioritizing gamers and integrating blockchain, aligns with our vision for the future of decentralized gaming, and has the potential for massive growth in this sector." said Allen Chen, Managing Director at LD Capital
Needless to say, we're incredibly excited to work with each of our new partners and investors.
Next Chapter
This is only the beginning of our journey at GAM3S.GG, and the industry is still in its infancy. With several household names entering the blockchain gaming space, our platform will continue to serve as the gateway for all gamers to enjoy web3 games to their maximum potential with all the content they need.
We're not just curating web3 gaming content; we're spotlighting the top games, setting the gold standard, and allowing gamers to engage with games in unprecedented ways as we aim to become the definitive home of web3 gaming.
But before we wrap up, I wanted to express our deepest gratitude to the Polkastarter family, our trusted partners, and most importantly - YOU, our gaming community. You have been with us every step of the way, your passion and feedback have been invaluable at pushing us beyond our boundaries, and for that, we will continue to fulfill our promise as YOUR home of web3 gaming.