Overview
Blankos Block Party gives players a blank canvas to show off their creations and invite players to experience their own designs and build all sorts of party games for everyone to enjoy. Jump into an immersive social party game where you play with and against friends in racing, vibe collection, shooting, and brawl game modes. Collect and play with unique Blankos that can be customized and leveled up with rare attributes.
Fun-filled Game Modes
Blankos Block Party is not just a game; it's a universe owned and built by its players. Whether you're looking to design your own levels, compete in thrilling races, or simply explore the vast landscapes, Blankos offers endless possibilities. At the heart of Blankos Block Party are the Blankos themselves - unique and rare characters that players can collect, upgrade, and even sell. Each Blanko possesses its own set of abilities and characteristics, making them valuable assets in both gameplay and trade. Blankos Block Party introduces a player-driven economy where Blankos, accessories, and other in-game items can be bought, sold, or traded. This decentralized approach empowers players to determine the value of their assets and engage in meaningful transactions.
Once you select the Blanko you want, you can participate in various modes. The Build Mode is where players can get creative, and design their own world to invite players into it to play together. It is an open invitation and a never-ending source of inspiration for everyone to let their imaginations run wild.
It doesn't end there as there are several party modes, including racing, shooting, vibes collecting, among many others. This is where you can gather your friends and have a fun time together or play with community members online. The chilled nature of the game makes it a prime birth place for so many unexpected enjoyable and funny moments.
Parties
Types of Parties
Blankos features a wide range of party styles, including:
Shooting Parties: Engage in thrilling shooting challenges with other players.
Racing Parties: Compete in exciting races across creatively designed tracks.
Collection Parties: Embark on collection quests and gather valuable items.
Mixed Parties: Combine different game styles to create something entirely new.
The game continues to evolve, with new building items, toys, and accessories being added regularly to enhance the party-building experience.
Building a Party
Creating a party in Blankos is a breeze, and you don't need to know a single line of code! Here's how it works:
Design Your Party: Choose the type of party you want to create and start designing.
Add Inventory and Toys: Drop inventory, toys, and accessories into your party to make it unique.
Configure the Rules: Set the rules of gameplay using a game controller or mouse/keyboard. The game takes care of the rest.
Create Social Parties: If you prefer, you can create a party just for players to hang out. The choice is yours!
Get "Your" Blanko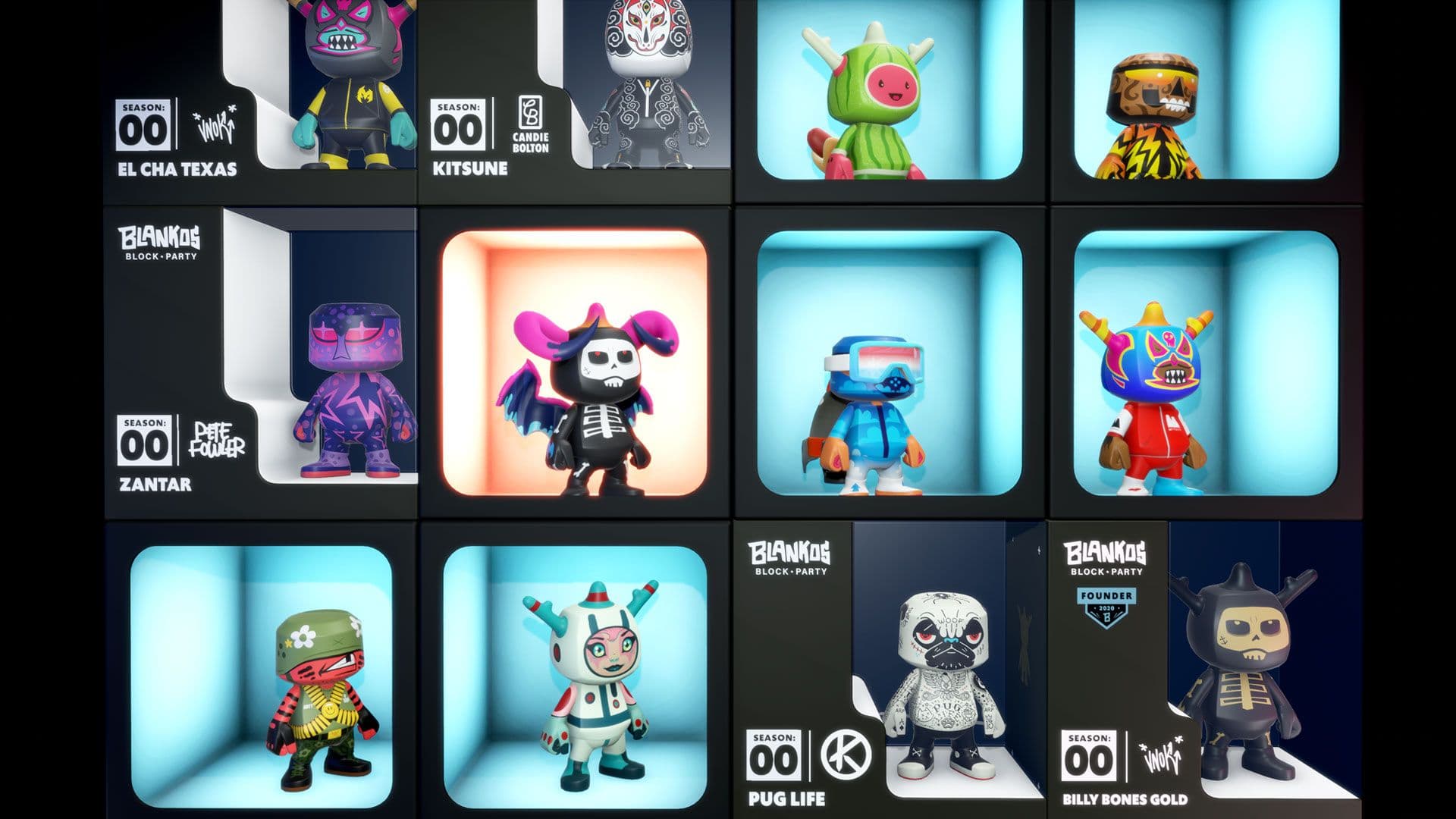 Each Blanko character is an NFT that can be bought and sold on the in-game marketplace, with some of them designed by the world's most talented artists, designers, and creators for limited releases as well. This includes the likes of deadmau5, Burberry, and world-famous vinyl toy designers including Pete Fowler, Jon-Paul Kaiser, Junko Mizuno and Tara McPherson.
The beautiful thing about Blankos Block Party is their NFTs are purely cosmetic but at the same time, they give you this natural urge to pick them up. The team at Mythical Games did a tremendous job in giving its players an area to showcase all the skins you have packaged and stacked next to each other, which definitely sparks the inner Funko POP! collector in me to have them all.
How to play Blankos Block Party?
Step 1: Visit the Official Website
Head over to the official website to explore the game and its features.
Step 2: Download the Game
Blankos Block Party is available for PC and macOS.
Ensure your system meets the game's requirements for a smooth gaming experience.
Click on the download link to start the installation process.
Step 3: Create an Account
Create your own Blankos account by providing the necessary details.
Follow the instructions sent to your email to verify your account.
Step 4: Explore the Universe
Launch Blankos Block Party and explore the vibrant landscapes.
Familiarize yourself with the game's mechanics, controls, and features.
Step 5: Collect Blankos
Acquire Blankos, each with unique abilities and characteristics.
Personalize your Blankos to match your style and preferences.
Step 6: Design and Play
Design your own levels using the game's intuitive tools.
Join races, challenges, and various activities created by other players or host your own.
And that's it! You're now ready to enjoy the colorful and engaging world of Blankos Block Party. Whether you're a collector, designer, or competitor, there's something for everyone in this exciting universe.
Minimum System Specifications
MacOS
2.3 GHz Intel Core i5 or equivalent
8GB RAM
Intel Iris Plus Graphics 640 or equivalent
1344x756
4GB of free space
Windows
Intel Core i7-4770AMD FX 8310
8GB RAM
Nvidia GTX 660, AMD Radeon HD 7870, DX11 GPU
1920x1080 | High 60 FPS